Building a country that works for everyone: Independent Panel publishes report on putting values at the heart of our businesses
Businesses are today being asked to consider how they can make a positive social impact in the work they do.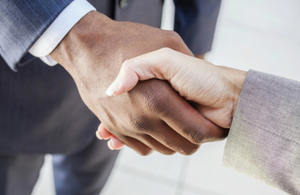 The calls come from an independent panel report into how mission-led businesses can be grown in the economy commissioned by Rob Wilson, Minister for Civil Society.
The review chaired by Nigel Wilson, Chief Executive of Legal & General, has made a series of recommendations for boosting mission-led businesses in the UK.
Mission-led businesses are profit-driven businesses that commit to have a positive social impact on society and the environment.
They use the power of business to make a difference and help solve important problems like helping to improve children's education, cut down on household bills by reducing food waste and support people struggling with mental health problems. Examples include Cook Trading Limited, Timpsons, and Patients Know Best.
Already, mission-led businesses are estimated to represent over 4% of the economy, with a combined turnover of £165 billion.
Minister for Civil Society, Rob Wilson MP said:
We need to encourage businesses to consider how through their work, they may be able to make a positive impact on the social challenges we face, helping to build a country that works for everyone.
I want to thank the panel for its work and I look forward to carefully considering its proposals.
Minister for Small Business, Consumers and Corporate Responsibility, Margot James MP said:
Responsible business practice is vital to the wellbeing of our society. The Government is committed to building an economy that works for all and we will consider carefully the panel's recommendations as part of our wider work on corporate responsibility.
Nigel Wilson, Chief Executive of Legal & General and chair of the advisory panel said:
The UK's collective economic success will be increasingly led by organisations of all types with a clearer mission and purpose. I've particularly been inspired by several leading corporates such as Johnson & Johnson, Centrica and Danone who have deployed their own balance sheets into mission aligned businesses. We are calling for an additional £1bn from corporate balance sheets and social pension funds to drive more mission led finance into the UK economy.
I would like to thank the panel members for their excellent work, and the people we met at regional events across the country in Cambridge, London, Cardiff, Oxford, Bristol, Manchester and Birmingham prepared to devote time, energy and resources to offer us their views.
The panel and I will work to progress the recommendations on behalf of mission led-business, and we look forward to the Government's policy response to our recommendations over the next few months as part of its inclusive economy work.
Recommendations to business include:
UK corporates investing £1bn in corporate social impact investment funds, targeting businesses that achieve financial growth and a measurable social impact.
Mainstream businesses establishing talent partnerships to help mission-led start-ups become mission-led scale-ups.
Business schools building evidence and curriculum around the case for business with purpose, to embed this approach within tomorrow's business leaders.
Recommendations to government include:
Bringing the business and social sectors together on a national scale to address longstanding social challenges for UK families.
Encouraging businesses to set out their social purposes alongside their obligations to shareholders.
Considering a "benefit company" status to make it easier for entrepreneurs to commit to social purposes over the long-term.
The Department for Culture, Media & Sport is leading cross-government work to strengthen the UK's social investment market.
Recent initiatives include asking Elizabeth Corley, Vice-Chair of Allianz Global Investors, to lead a project on creating more opportunities for savers to invest in line with their values.
Notes to editors
Media enquiries
● DCMS News and Communications team on 020 7211 2210.
● Richard King, Head of Corporate Communications, L&G on 020 3124 2095.
Published 5 December 2016