News story
'Broadband key component of Wales' economic success'
UK Government announces broadband funding boost for Welsh businesses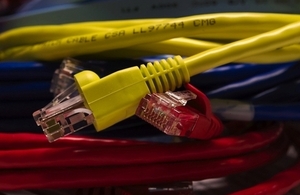 Businesses based in Wales's two 'super-connected' cities will today be able to benefit from increased access to faster and better internet access, as the broadband connection voucher scheme is rolled out in 10 cities across the UK.
Wales Office Ministers have today (7 December) marked the announcement made by Culture Secretary, Maria Miller, that will see businesses in Cardiff and Newport benefitting from a share of a £100m pot to connect them to better quality, high speed broadband.
The scheme is a core part of the transformation of broadband the Government is delivering across the country. The funding comes from the Government's £150 million "Super Connected Cities" programme and is an integral part of the Government's offer to small businesses, also being launched today.
The voucher scheme will allow businesses to apply for grants of up to £3,000 each to cover the costs of installing faster and better broadband, allowing them to offer customers faster services and increased reliability. It will benefit small and medium enterprise businesses (SMEs), helping cities to create and attract new jobs and investment as part of the Government's ambition to make the UK the best place in Europe to do business.
In addition to this, the UK Government has already provided almost £57 million to the Welsh Government in order to ensure that broadband access is available to homes and businesses in some of the hardest to reach parts of Wales.
Secretary of State for Wales David Jones said:
"Superfast broadband is a key component of Wales's future economic success. By 2015, we will have achieved a truly remarkable transformation in broadband provision in Wales. Speeds will be dramatically faster, and both fixed and mobile superfast broadband will be widespread. I would urge businesses in Cardiff and Newport to make the very most of the voucher scheme launched today.
"Today's announcement follows the announcement made in October where another 151 towns and villages in Wales will get high speed fibre broadband as part of the multi-million pound Superfast Cymru project. This is probably the single most important thing we can do to ensure the sustainability of our rural communities and businesses."
Wales Office Minister Stephen Crabb said:
"The launch of the voucher scheme marks a crucial landmark in our ambition for Wales to be a part of a world class connected country, a strong market for consumers, and a great place to do business.
"Providing high quality internet access is fundamental to the growth of our economy and today's announcement shows that this Government is doing all it can to ensure that the UK has the best digital infrastructure."
Note to Editors:
The broadband connection voucher scheme will be extended to 12 other cities around the UK in early 2014.
The cities eligible today are Belfast, Salford, Portsmouth, Cardiff, Derby, Bristol, Edinburgh, Newport, London and Manchester.

In 2011, the government set aside £100 million for an Urban Broadband Fund (UBF) that will create up to ten 'super-connected' cities across the UK. This was followed in 2012 by a further fund of £50 million for a 'second wave' of cities to benefit from this programme

The super-connected cities will benefit from increased access to faster and better broadband, and large areas of public wireless internet (wifi) access

The super-connected cities were announced in two waves. The first wave, announced in March 2012, included: Manchester, Birmingham, Bristol, Belfast, Newcastle, Leeds and Bradford (joint proposal), Edinburgh, Cardiff and London

DCMS announced the second wave of super connected cities in December 2012. They are: Aberdeen, Brighton and Hove, Cambridge, Coventry, Derby, Derry/Londonderry, Newport, Oxford, Perth, Portsmouth, Salford and York

Today's launch forms part of a wider package of new benefits for SMEs announced on Small Business Saturday as part of the UK Government's new offer for small businesses - for further information please click here

As part of the wider Government investment in broadband, the UK Government, through Broadband Delivery UK (BDUK), has provided £57 million for the Welsh Government's Superfast Cymru project.
Published 7 December 2013
Last updated 9 December 2013
+ show all updates
Adding Welsh translation
First published.