News story
Britons rescued from Nepal monastery
UK humanitarian team help rescue British nationals stranded in a monastery in Nepal.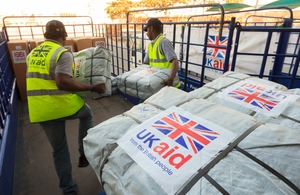 Eight British nationals who were stranded in a monastery at Serang Gompa, Bihi near Lho, in Nepal, were rescued yesterday (2 May 2015) by a helicopter chartered by the Department for International Development (DFID).
Working with the Foreign Office and government of Nepal, DFID's humanitarian team in Nepal chartered the aircraft to rescue the group from the remote area.
International Development Secretary Justine Greening said:
The quick thinking and swift action of DFID's team means 8 British nationals are now safe and well and saved from what could have been a life or death situation.

The DFID team in Nepal are working tirelessly to help all those affected by the earthquake, and of course that includes the British nationals caught up in this disaster.

We can be proud of everything the UK is doing to help Nepal, whether it is our government aid flights, the work of British charities on the ground, or the generous public donations to the DEC Appeal.
DFID also confirmed yesterday that more British aid is arriving in Nepal. The RAF C-17 has subsequently airlifted a number of British nationals from the country.
General media queries
Follow the DFID Media office on Twitter - @DFID_Press
Published 3 May 2015