World news story
British Embassy, Tashkent hosts Awards Ceremony
On 23 August participants of the radio quiz "How well do you know Britain?" attended an awards ceremony held in the British Embassy.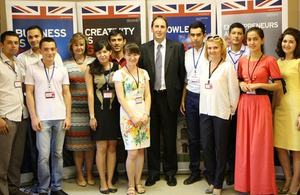 The radio quiz sponsored by the British Embassy was held between 24 July and 2 August 2013. Radio Grand (101.5 FM) broadcast the quiz across the country, encouraging its audience to answer diverse questions about famous British scientists and entrepreneurs, the UK's economy and business climate, and Uzbek-British trade and investment relations. The competition was very fierce and the Embassy received hundreds of answers via email and its Facebook page, showing the Uzbek public's interest in the UK.
Nine radio quiz winners were invited to attend the awards ceremony in the Embassy, where Her Majesty's Ambassador George Edgar congratulated them and presented gifts and certificates. The winners also had tea with Embassy staff and Ambassador Edgar, who answered their questions about the UK and discussed developing Uzbek-British trade and investment relations. Among other things, the Ambassador mentioned the 20th session of the Uzbek-British Trade and Industry Council that will be held in London in November 2013.
The radio quiz was a part of UK Trade and Investment's worldwide "Great" campaign. The UK is one of the top countries in the world in terms of ease of doing business, and the most popular destination in Europe for foreign investment. Britain offers one of the best educated and most highly skilled workforces in the world, attractive tax regimes, business-friendly regulation and easy access to European Union markets.
Published 22 August 2013