World news story
British Embassy Ljubljana marks International Day against Homophobia
British Ambassador Andrew Page and British council Director James Hampson issue a statement to mark the International Day against Homophobia.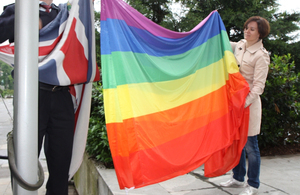 Today we mark this year's International Day against Homophobia (IDAHO) by flying a rainbow flag outside the British Embassy and British Council's premises. We also express our support to the coming Ljubljana Pride Parade and are joining in the call for an end to discrimination and support the LGBT community in their fight against inequality and injustice.
The protection and promotion of the rights of Lesbian, Gay, Bisexual and Transgender (LGBT) people is an integral part of the British Government's wider international human rights agenda. We believe that human rights are universal and should apply equally to all people, as enshrined in Article 1 of the Universal Declaration of Human Rights. We also believe that to render consenting same-sex relations illegal is incompatible with international human rights laws, including the International Covenant on Civil and Political Rights.
It is sadly the case that in many countries Lesbian, Gay, Bisexual and Transgender people continue to suffer brutal violence and discrimination. They are not making a political statement, or asking for special treatment, they just want to be free to be who they are and to love who they choose.
Our work to protect the rights of LGBT people through international institutions is an important part of our international efforts to address the issue. Through our Embassies and High Commissions, we take action and lobby for changes in discriminatory legislation and practice. Our embassies, the British Council's offices and High Commissions moreover support the work of civil society organisations in their efforts to change social attitudes and behaviour toward LGBT people through organisation of and support to activities in host countries.
The UK is also committed to protecting the rights of LGBT people at home. In February the Parliament endorsed Prime Minister David Cameron's plan on equal marriage, which enables same-sex couples to marry in civil ceremonies. Prime Minister David Cameron said:
I am a strong believer in marriage. It helps people commit to each other and I think it is right that gay people should be able to get married too.
Further information
More about our LGBT work
More about Equal marriage
Foreign & Commonwealth Office Human Rights and Democracy Report 2012
More about Ljubljana Pride Parade
Published 17 May 2013