British biggest ever combined visit to China
Prime Minister David Cameron is set to lead the biggest ever combined visit by a UK Ministerial team to China.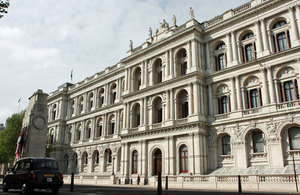 Accompanying him on his two-day stay in Beijing on November 9 and 10 are Chancellor of the Exchequer George Osborne, Secretary of State for Business, Vince Cable, Secretary of State for Energy and Climate Change, Chris Huhne and Secretary of State for Education Michael Gove.
The Prime Minister will also fly in with a 50-strong Business delegation comprising the heads of some of Britain's top companies.
The centrepiece of the visit will be the Summit with Premier Wen Jiabao on Tuesday. The discussion, followed by a working banquet, will enable the two leaders to discuss matters of mutual importance, to strengthen the bilateral relationship and to look forward to the G20 Summit in Seoul. The two Premiers will also witness the signing of various government and commercial agreements.
The visit demonstrates the breadth and depth of the UK's strategic, comprehensive relationship with China.
Some Ministers will be here for up to four days of events including the first ever Energy Summit between the UK and China hosted by Minister Zhang Guobao, the Joint Economic and Trade Commission hosted by Chen Deming, the Economic and Financial Dialogue hosted by Vice Premier Wang Qishan, an Education Summit led by Minister of Education Yuan Guiren and a Business Summit hosted by Minister of Commerce Chen Deming.
Commenting on this historic event, the UK Ambassador Sebastian Wood said today: "Nothing of this scale has even taken place between the UK and China before. But we are natural partners across a whole spectrum of issues and this Summit shows our partnership has reached a new level. Our task is now to release the full potential from our relationship and I am personally very confident we will see some clear and powerful deliverables."
Each UK Minister will also be bringing together an impressive delegation from the spheres of business, financial services, and education.
Search the news archive
Published 5 November 2010