News story
British and German Europe Ministers on joint visit to Eastern Europe
David Lidington and Werner Hoyer met in Munich before commencing a two day joint visit to Moldova and Romania.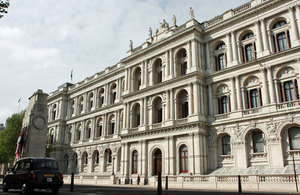 British Minister for Europe David Lidington and Werner Hoyer, his German counterpart, have arrived in Moldova on what is the first stage of a two-day joint visit to Moldova and Romania.
Whilst in Moldova, on 20 September, the British and German Europe Ministers will hold a series of joint bilateral discussions, meeting Prime Minister Vlad Filat, Deputy Prime Minister Victor Osipov, and Deputy Prime Minister, Minister of Foreign Affairs and European Integration, Iurie Leanca. They will then hold a press conference at the Moldovan Foreign Ministry.
Following the day's engagements on the 20 September, the two will travel to Romania, to meet with the Prime Minister, Emil Boc, and attend a dinner with the Romanian Foreign Minister, Teodor Baconschi.
Still in Romania on the 21 September, David Lidington and Werner Hoyer will begin the day by meeting with Leonard Orban, Romanian EU Affairs Presidential advisor, they will then hold further meetings with Romanian Minister for Europe, Bogdan Manoiu, and Secretary of State for EU Affairs, Bogdan Aurescu.
Mr Lidington and Mr Hoyer will then take part in a trilateral press conference with Secretary of State Aurescu.
After the end of their joint programme, both Ministers will attend further bilateral meetings, and then David Lidington participate in an online question and answer session (21 September, 15.45 GMT) hosted by Romanian news organisation Hotnews.
Mr Lidington then completes his visit by attending a dinner on EU and economic issues with senior Romanian government officials.
Published 20 September 2010