British Ambassador to Afghanistan visits Pakistan
British Ambassador to Afghanistan Sir William Patey has returned from a two days visit to Pakistan 5-6th June.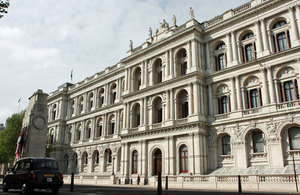 Speaking after the visit, the British Ambassador said:
"I am delighted to have visited Pakistan and to have had the opportunity to discuss the situation in Afghanistan with Pakistani political and military leaders. In my meetings with my Pakistani colleagues, I highlighted the UK's work to help Afghanistan become a secure and stable country. The UK is actively promoting Afghan-led political reconciliation and welcomes Pakistan playing a constructive role in the process. I welcome the frequent contacts between the governments of Pakistan and Afghanistan and hope these contacts will ensure greater understanding and promote efforts for a political settlement in Afghanistan. A secure Afghanistan is in the interests of Pakistan and the region. There are opportunities for the Taliban to join the peace process and disassociate themselves from al-Qaeda and I hope that Pakistan can continue to play a positive role in the Afghan-led peace process.
The UK will continue to support Afghanistan beyond 2015. As President Karzai has set out responsibility for security will be transferred to the Afghan security forces"
Published 8 June 2011