World news story
British Ambassador marks International Earth Day at University of Uzbekistan
George Edgar delivers speech on climate change and discusses its impact on policy development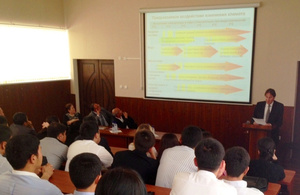 On Monday, April 22th, the British Ambassador to Uzbekistan, His Excellency Mr George Edgar O.B.E. gave a presentation entitled "Climate change: Mitigation of its consequences in the UK and Uzbekistan" at the National University of Uzbekistan. The presentation was held on International Earth Day, an annual event marked worldwide to raise awareness of and demonstrate support for environmental protection issues.
In his speech, HM Ambassador touched on themes including the link between chemistry, biogeochemistry and climate science, and implications on future environmental developments in the world. Ambassador Edgar also discussed policy developments in science and economics in the light of climate change. In addition, the Ambassador touched upon the UK's commitment to improve the global situation with CO2 emissions and ongoing environmental changes in Uzbekistan.
Students from various faculties of the university attended the presentation and following the Ambassador's speech there was a lively question and answer session. The students were keen to find out more about international cooperation in emission reduction commitments and protection of the environment.
The theme of International Earth Day 2013 is "The Face of Climate Change". Around a billion people are expected to take part in Earth Day events this year. The idea behind the theme is to personalize the challenge climate change presents by spreading the stories of individuals, animals and places directly affected or threatened by climate change, as well as the stories of people who are taking action to deal with the effects of climate change. A global mosaic display on Earth Day will show images of the thousands events around the world dedicated to International Earth Day 2013.
Published 23 April 2013