World news story
British Ambassador launches Holocuast survivors club in Haifa
British Ambassador to Israel, Matthew Gould, officially launched the 13th 'Cafe Britannia' Club for Holocaust Survivors in Haifa on 7 November.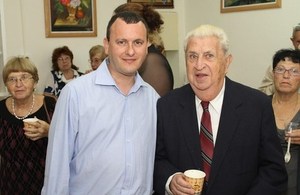 The club is one of 20 opening around Israel, from Eshkol Regional Council in the south, through Bnei Brak, to Migdal Hae'emeq in the north. All are supported by the Jewish community in the UK.
The club in Haifa serves as a cultural and social centre for 100 Holocaust Survivors. It operates for two days a week, during which the Holocaust survivors enjoy sports classes, lectures, musical events, birthday and holiday celebrations, tours and tailored activities for the elderly.
Ambassador Gould spoke in Hebrew: "My family is the reason I am here. My grandfather is from Warsaw and my grandmother was from Lodz. Their families were in the Holocaust. When we came to Israel Celia and I wanted to do something special for Holocaust survivors. This project is extremely important to us. We believe that after the Holocaust, you the survivors have the right to live in comfort and dignity."
Mr. Shaul Gorka, a Holocaust Survivor added: "I would like to thank the Ambassador for his visit and his generous help. I would like to thank you and your wife for everything you do for us. I was born in 1936, in Poland. After the Holocaust I came to Israel, met my wife and now I have a child and grandchildren. This is my victory".
The Café Britannia clubs are operated by the Foundation for the Benefit of Holocaust Survivors and the Ministry of Welfare and Social Services, and are supported by the Jewish Community in the UK. The Haifa club was made possible thanks to a grant from the Maurice and Vivienne Wohl Charitable Trust.
Published 11 November 2013