Press release
British aid for Yazidi refugees fleeing Mount Sinjar
Britain will boost its support for 12,000 Yazidi refugees who have escaped from Mount Sinjar and made it to a refugee camp across the Syrian border, International Development Secretary Justine Greening has announced.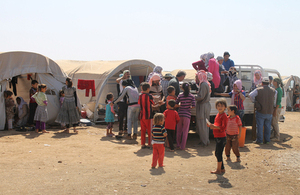 The Department for International Development (DFID) is providing funding for the International Rescue Committee (IRC) to provide a month's worth of water and medicine for the refugees. British funding for other aid agencies working in the Newroz refugee camp will support the distribution of hygiene kits to almost 4,000 men, women and children, ensuring refugees stay healthy and reducing the spread of disease.
A few weeks ago Newroz camp, in north-eastern Syria, was home to just 20 Syrian families displaced by the conflict in their country. But over the past week the IRC has been providing medical care and essential items to 12,000 people who have fled the mountain.
The Yazidi refugees walked up to 60km before reaching the camp, facing temperatures of up to 50 degrees and without water. To prevent refugees dying the IRC has distributed 90,000 litres of water and 600 jerry cans.
Justine Greening said:
These 12,000 Yazidi refugees have escaped a siege, walked 60km in 50 degree heat and found their way across the Syrian border to a refugee camp that used to house just 20 families.

They have shown immense courage to make it this far and we are extremely concerned for their wellbeing. By supporting the work of the International Rescue Committee, Britain will provide vital medicine and water to give immediate assistance.

Britain will continue to help the Yazidi people stranded on Mount Sinjar with airdrops of emergency aid.
Suzanna Tkalec, the International Rescue Committee's Country Director in Iraq, said:
Thanks to funding from the UK we were able to reach severely dehydrated refugees straight away.

We are still gravely concerned for the thousands of people still stranded on the Sinjar mountains. Those that have managed to escape are seriously debilitated after having spent days without water and food on temperatures that reach 50 degrees.

We want all the people still there to be safely extracted from the mountain and brought to a safe place where they can receive immediate assistance.
A Yazidi woman now living at the Newroz camp said:
I was in the Sinjar mountains for a week before I escaped. Now I am a volunteer with the IRC in the health tent. I write the prescriptions. The people who are coming from the mountains after me are in bad shape. They are dehydrated and have fevers.
The UK has also deployed a technical adviser to the Kurdistan Regional Government to boost their capacity to work with the UN and help ensure that assistance gets to those who need it most. Britain has already provided £3 million to four charities scaling up their efforts in the region.
UK humanitarian advisors are working closely with aid agencies in this region to assess what further assistance Britain can provide to help the hundreds of thousands of people affected by this crisis.
Justine Greening announced £8 million in new assistance for those displaced in Iraq on 8 August. This brings to £13 million the total committed by the UK in response to the crisis. This includes:
£2 million of emergency humanitarian supplies for 75,000 people, including aid that can be air dropped to help those trapped in the Sinjar Mountains as quickly as possible. Supplies will include reusable filtration containers filled with clean water, tarpaulins and basic shelter equipment, and solar lights that can also recharge mobile phones to enable communication
£3 million of fast-tracked funding for Mercy Corps, the IRC, who are already on the ground and helping displaced people in northern Iraq. This will go via DFID's Rapid Response Facility, which has now been activated to deal with the crisis
£2.5 million of support for the International Committee of the Red Cross (ICRC) to provide immediate medical and humanitarian assistance
a further £500,000 that will ensure Kurdish and UN systems are able to coordinate and respond to humanitarian needs in the region
See a summary and latest updates on the UK government's response to the Iraq crisis
Notes to Editors
DFID, in close collaboration with existing aid agencies in the region, is scaling up operations in north-eastern Syria by providing over £67,000 of Syria aid funding to cover the costs of water, medicine and hygiene kits for Yazidi refugees in Newroz camp. The UK government has contributed over £1,750,000 for the IRC's ongoing health work helping displaced Syrians across Al-Hassakah province.
Figures for the numbers of Yazidis in the camp supplied by the International Rescue Committee.
For interviews with an IRC advisor based in Newroz camp please contact Paul Donohoe, IRC Press & PR Manager, on 020 7692 2739; 07779 624 385.
General media queries
Follow the DFID Media office on Twitter - @DFID_Press
Published 14 August 2014