Press release
Britain remembers WW1 Victoria Cross heroes
175 Victoria Cross heroes from 11 countries have been honoured by the Foreign and Commonwealth Office in a digital archive launching today.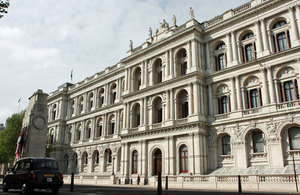 As part of the government's Centenary programme, the Foreign and Commonwealth Office has launched a digital archive telling the inspiring stories of 175 men from 11 overseas countries awarded Britain's highest award for valour, the Victoria Cross, during the First World War. This follows the presentation to their home countries in June 2014 of bronze memorial plaques, engraved with each of their names, as a mark of gratitude from the people of the United Kingdom.
In this second stage of the campaign we are telling the individual stories of these courageous men who came from many different backgrounds, and who fought side by side with Britain in a common cause. By doing so we hope that today's generations will come to learn more about their bravery, compassion, and loyalty.
Foreign and Commonwealth Office Minister Hugo Swire said:
Behind every name engraved on the memorial plaques there is a truly remarkable story. It is fitting that we pay tribute to the Victoria Cross recipients from overseas by bringing their stories together in this digital archive. By doing so we are sending a message that these men, and the important role played by their home countries in the First World War, will never be forgotten by the people of the United Kingdom.
Notes for editors
The digital archive was launched at 12.00 on Monday 20 June on GOV.UK. As well as the individual biographies there is a topic page which includes a blog and film made by the FCO in conjunction with the Imperial War Museum.

In line with the digital theme the launch takes place on social media at the FCO and the 11 relevant diplomatic posts overseas. The aim is to reach younger generations.

The archive follows the presentation of bronze memorial plaques to the recipients' home countries in June 2014, and aims to bring the names on those plaques to life.

175 VCs were honoured from 11 countries: Canada (70 VCs); Australia (66); New Zealand (16); South Africa (14); India (6); USA (5); Pakistan (3); Nepal (2); Denmark (2); Belgium (1) and Ukraine (1) (a handful had allegiances to more than one country, hence the discrepancy of numbers in the country collections). More information can be found in our publication WW1 Victoria Cross recipients from overseas.
Further information
Follow Foreign Office Minister Hugo Swire on twitter @HugoSwire
Follow the Foreign Office on twitter @foreignoffice
Follow the Foreign Office on facebook and Google+
Published 20 June 2016