Britain, Bolívar & the independence of Latin America
In the latest podcast from the Foreign Office historians, Richard Smith discusses Simon Bolivar's links with Britain and the role played by many hundreds of British volunteers who fought alongside him.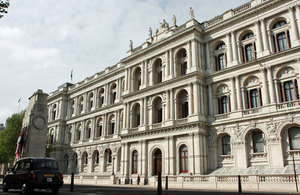 Simon Bolivar was a military and political leader born in Venezuela. Together with Jose de San Martin, he played a key role in Latin America's successful struggle for independence from the Spain.
Last year marked the bicentenary of independence of a number of Latin American countries - Argentina, Chile, Colombia, Venezuela and Mexico. It also marked the 200th anniversary of the visit to London by Simon Bolivar in his quest to seek British support for the independence movement.
This latest episode from our series of history podcasts is available listen to below or you can download via our website or iTunes. The enhanced version includes images as well as audio.
Britain, Bolivar and the independence of Latin America by Foreignoffice on Mixcloud
Published 2 June 2011