Press release
BPS 2015 update
RPA has now received almost 20,000 BPS applications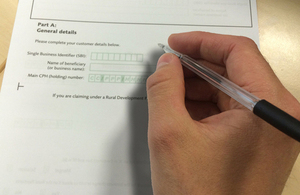 The Rural Payments Agency (RPA) has now received almost 20,000 Basic Payment Scheme (BPS) applications and is this week writing to farmers who have not yet applied, to remind them not to delay but make their claim today.
As well as the Agency's 50 drop-in centres that are available across the country to help farmers, RPA mobile support units are this week visiting Cheshire, Derbyshire, Devon, Herefordshire, the Isle of Wight and North Yorkshire.
Locations of the drop-in centres and the mobile support units can be found on GOV.UK (search for 'find help to claim rural payments').
bIn addition, the deadline for notifying RPA of permanent ineligible features which have not previously been mapped has been extended to 30 September 2015. This means farmers can concentrate on submitting their BPS application to meet the 15 June deadline. The deadline for RPA to receive BP5 application forms, and all RLE1s used for any purpose other than to notify RPA of permanent ineligible features for BPS 2015, remains 15 June 2015.
The Agency has also published an update to the BPS guidance for 2015 and the How to apply guide. This update includes:
Further information on grassland and agri-environment schemes
Telling RPA about land use, and
Proving someone is a young farmer when they are in partnership.
The guidance also features further information on Ecological Focus Areas, including more examples of buffer strips. It can be found at www.gov.uk/rpa/bps, along with the other guidance farmers should read before they apply.
Customer Director Justin Chamberlain said:
The decision taken on permanent ineligible features is another example of RPA acting on the feedback we have received from customers and stakeholders.

Farmers now have more time to notify us of previously unmapped permanent ineligible features, but we would still urge them to submit these forms as soon as possible because we need to use this information to calculate claims before making payments.

The further guidance which has been published gives farmers all they need to get their claim in before deadline.
Useful tips
Submitting your BP5 form
If you have not yet received your BP5 form or maps call the RPA helpline on 03000 200 301. Farmers using an agent should check that their agent has received their forms.
Forms can be posted or handed in at a drop-in centre. Forms can be printed single or double sided. Blank pages do not need to be submitted but a covering note must be included specifying the pages that are being sent to RPA. Farmers should make sure they have signed their form and that they have completed it in black ink. For added assurance, farmers who will be submitting their applications by post may like to consider using a 'signed-for' process.
Land use codes for woodland
A common topic farmers are asking RPA about is land use codes for woodland. There isn't a land use code for trees/woodland. If trees are "scattered", and the agricultural activity can take place in the same way as if the trees were not there, the land use for that area beneath the trees should be recorded – so if it is permanent grassland, use PG01.
If the area of trees/woodland is not eligible for BPS but is in an RDP agreement, it should be included in Part C using land use code RD02. If the area is eligible for BPS because it was used to claim SPS in 2008 and is still under an appropriate RDP option, use RD01.
If the area is not eligible, is not in an RDP agreement, and is a separate parcel /not part of a larger parcel it should be excluded from the BP5. If it is part of larger parcel it should be coded NA01.
All the land use codes you need to include as part of your application can be found in the How to apply for the 2015 Basic Payment Scheme in England (version 2) booklet.
Greening
We have published a useful workbook to help you with greening. Use this workbook for your own calculations and to satisfy yourself that you are meeting the rules. You don't need to send it to the RPA as part of your BPS application.
Published 19 May 2015