Boyle review calls for more choice in public services
An independent review about barriers to choice that people face in accessing public services has been published today.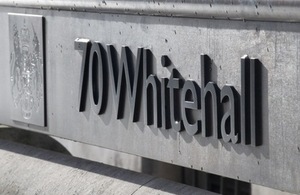 24 January 2013
CAB 007-13
People want a broader choice in the public services available, and how they are delivered, from hospitals and schools to social care, according to an independent review conducted by David Boyle, published today.
Ministers had asked David Boyle to look specifically at whether there were barriers to choice in public services for those from a disadvantaged background. After talking to people across the country Mr Boyle's review produced three key findings:
First, that the bureaucratic barriers to choice remain powerful if you are less confident or articulate; and if you want something slightly out of the mainstream then there is inequality present in the scope of choice available to everyday people across the UK;
Second, people, especially the disadvantaged, need information and advice on what choices are available to them, yet often this proves problematic. Some people do not easily have access to the internet and this makes it even harder to find out what choices are available, and they also want face to face advice to make sense of it;
Finally, what you find when you talk to people about choice in detail is that the kind of choices they _think _they are getting are often not what they are being offered in reality, and there is a need for more flexibility in the way services are delivered.
Launching the review David Boyle said:
I've been speaking to people the length and breadth of Britain and what is clear is that people from all backgrounds want to have a choice in the services they receive, but they want a meaningful choice - which means they have the information and the advice they need, and the confidence and authority to ask for flexibility in the way services are delivered.

Too often in the past, people from disadvantaged backgrounds have lost out because while choice and flexibility is available, they haven't been able to access it. As we look to increase the choices available to patients, parents and others, it is absolutely vital that everyone can benefit. I hope this review can help them get those choices, but also that it helps broaden the choice debate and the scope of choice.
Minister for Government Policy Oliver Letwin said:
Too often in the past people have had to make do with whatever services the state deemed best for them, with no chance to say what was right for them and their families. We want to consign that one size fits all approach to history. People should be able to choose the services that are right for them. I'm really pleased to see David Boyle's review and look forward to seeing how we can take forward his recommendations to make choice a reality.
Minister of State in the Cabinet Office David Laws said:
We are committed to making sure people from all walks of life can benefit from the best public services, whether we're talking about schools, hospitals or social care, and that means removing the barriers that stop many from our most disadvantaged communities from having a choice. David Boyle's review sets out some important recommendations for how we go about doing that.
Notes to editors
David Boyle's review is published on the Cabinet Office website.

David Boyle is a fellow of the New Economics Foundation and the author of a number of books about public services.
Published 24 January 2013