News story
Border Force stubs out cigarette smuggling attempt
Border Force officers have foiled an attempt to smuggle 30 million cigarettes into the UK through the port of Southampton.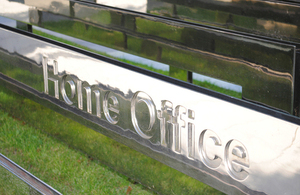 The haul was made after a container shipped from China, which was supposed to be carrying wind turbine parts, was stopped by Border Force officers. The container was scanned in an x-ray machine and this showed cigarettes inside.
Two further containers were found to be linked to the first one, all of which contained cigarettes. There were a total of 19.4 million Lambert & Butlers and 10.9 million Regal cigarettes, all of which are believed to be counterfeit.
If the haul had not been intercepted it would have cost the Treasury about £8,064,000 in unpaid excise duty.
Cigarettes
The cigarettes will be destroyed following the seizure, which was made at 5pm on Friday 1 March. All the containers had been destined for Glasgow.
Andy Lumb, from Border Force, said: 'This was cigarette smuggling on an industrial scale so I am delighted our officers have prevented this haul of contraband from reaching our streets.
'Tobacco smuggling is not victimless. It is effectively stealing from the public purse, at a time when the country can least afford it.
'I would urge anyone tempted by cheap cigarettes and tobacco to think again. The black market cheats honest traders and it is totally unregulated so buyers have no way of knowing what they are actually getting.
'The size of the detection should leave people in no doubt that tobacco smuggling is a serious organised crime, worth big money to the criminals involved. By stopping this shipment we have hit the smugglers where it hurts the most, in the pocket.'
Border Force
Border Force officers use hi-tech search equipment to combat immigration crime and detect banned and restricted goods that smugglers attempt to bring into the country.
They use an array of search techniques including sniffer dogs, carbon dioxide detectors, heartbeat monitors and scanners - as well as visual searches - to find well-hidden stowaways, illegal drugs, firearms and tobacco which would otherwise end up causing harm to local people, businesses and communities.
Anyone who has information on suspected smuggling or immigration offences can contact Border Force or call the hotline on 0800 59 5000.
Published 7 March 2013