News story
Border Force sniffer dog Tyke wins top TV award
Tyke's journey from dogs' home to dog's life with Border Force has led him to the national stage at the British Animal Honours 2013.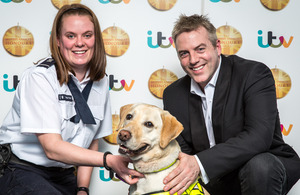 At the ITV awards hosted by TV celebrity Paul O'Grady, Tyke and handler Sam O'Connor won top spot in the working dog category – 'In the Line of Duty'.
The Heathrow based Border Force detector dog was honoured in the national awards for his sterling work in safeguarding endangered species from being smuggled into the UK. And stopping potentially harmful imports of meat and diary that could spread disease to British shores.
From dogs' home to dog's life
Tyke, who started life in the world famous Battersea Dogs Home, is one of 67 sniffer dogs around the UK working alongside Border Force officers to stop dangerous and smuggled goods entering the UK.
Border Force detector dogs are trained to search people, vehicles and freight for a variety of goods such as drugs, products of animal origin, endangered species, firearms, tobacco, cash and smuggled people.
Tyke, a seven-year-old Labrador, has become one of the team's most successful dogs, detecting more than 27 tonnes of banned animal products and food such as meat, cheese, animal skins and even ivory and rhino horns.
Tyke's handler, Sam O'Connor, said:
Tyke is a brilliant partner to work with, no matter what time of day, he's always keen and eager to go to work and help Border Force officers stop more banned or harmful goods from entering the UK.

I am so proud of him for winning this award, he thoroughly deserves it after all his years of service and it was a great evening meeting other nominees and handlers.
Ministerial praise for Border Force dog teams
Tyke was donated by Battersea Dogs & Cats Home after his owner could no longer look after him. Being a very lively dog, Tyke had all the behaviours needed for a Border Force detector dog.
Tyke is one of four dogs from Battersea to work at Heathrow. His canine colleague, Lucky a six-year-old black Labrador, still works the Heathrow beat sniffing out smuggled drugs and cash.
Mark Harper, Immigration Minister, said:
Tyke and his handler Sam are a great example of the excellence and professionalism of the dog team in helping Border Force prevent harmful goods entering the UK.

I have been really impressed with the detector dog teams when I have seen them on patrol at ports and airports around the country ensuring the UK border is safe and secure.
The programme can be viewed on ITV player
Published 18 April 2013