News story
Border Force officer collects MBE from Buckingham Palace
A Border Force officer based at Birmingham Airport took a trip to Buckingham Palace to collect an MBE.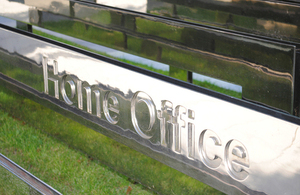 Jason Moore-Read, who was born with no legs, was commended in the Queen's New Year Honours List for his role helping limbless and disabled people both in and out of work.
Jason, who lives in Thurmaston near Leicester, said keeping his MBE secret from his family had been difficult. He said: 'I opened the letter with my eight-year-old daughter looking on. I tried not to smile too much because I knew that if she found out all our friends and neighbours would soon know.'
At the request of the Limbless Association, the 42-year-old visits hospitals all over the country, helping people who are coming to terms with losing their limbs.
Opportunities
Jason also helps make life easier for disabled people who work for government departments by ensuring they have the same opportunities as able-bodied people.
He added: 'My life has been good - if not better - than I could have wished for. I am constantly encouraged, when visiting people who have lost limbs, by how positive they are. This is exactly my outlook.
'It's a great feeling when I hear that people who I have helped over the years have got on with their lives, gained a job, had a family or are driving it.'
Joanne Laws, Senior Prosthetist, Leicester General Hospital, said: 'Jason always shows the highest level of integrity and reliability, providing great support, guidance and advice to patients during a very difficult time. This gives a good foundation for their rehabilitation. He is a humble and unpretentious person and, whatever his own challenges, continues to draw from his experience and put it to the best to help others.' 
Published 22 March 2012