Press release
Boosting business by easing health and safety burden – 84% of rules scrapped or improved
Eighty four per cent of health and safety rules will have been scrapped or improved in this Parliament, freeing employers from unnecessary red tape.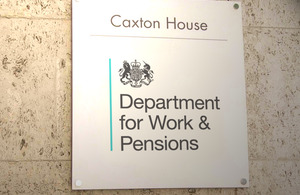 The Department for Work and Pensions has taken a 'One in Two Out' approach to rules, with those covering health and safety halved without compromising or diluting health and protection for workers.
Further savings are forecast for industry by revising electrical product testing guidance, a move which could produce a £30 million windfall in offices across the country.
The Health and Safety Executive's (HSE) essential work to stop people being injured or made ill at work has helped work related injuries fall by 85% over the past 40 years, making Britain's workplaces safer than ever before.
Work and Pensions Minister, Lord Freud said:
Thanks to the hard work of HSE's staff to simplify regulations and remove unnecessary requirements, businesses have been boosted and workers have never been safer.

By making it easier for businesses to understand what they need to do on health and safety, they can protect their staff and concentrate on prospering rather than pointless box-ticking.
Chair of HSE, Judith Hackitt added:
We have a proud history of worker protection and we continue to work with business and others to ensure that regulations are appropriate and effective.

As an organisation, we've completed a comprehensive review of our stock of legislation, delivered a substantial package of reforms and reduced the regulatory burden – all without compromising or diluting protection for workers.
More information
The Health and Safety Executive is Britain's national regulator for workplace health and safety. It aims to reduce work-related death, injury and ill health. It does so through:
research
information and advice
promoting training
new or revised regulations and codes of practice
working with local authority partners by inspection, investigation and enforcement
The highlights for HSE regarding the government's better regulation drive are:
Construction (Design and Management) Regulations 2015, giving HSE its largest One In, Two Out (OITO) of £19.6 million
in total HSE has been able to contribute £21.25 million of savings to business under OITO in this Parliament
Mines Regulations 2014, consolidating and modernising 45 existing sets of regulations and the relevant parts of 2 Acts of Parliament with new single set of regulations laying down specific, goal-setting requirements for the safe management of mines
Contact Press Office
Media enquiries for this press release – 0203 267 5112
Press Office
Caxton House
Tothill Street
London
SW1H 9NA
London Press Office (national media and London area enquiries only – not questions about personal claims) 020 3267 5144
Out-of-hours (journalists only) 076 59 108 883
England and Wales (local media enquiries) 029 20 586 then 097 or 098 or 099
Scotland (local media enquiries) 0131 310 1122
Follow DWP on:
Published 16 January 2015