Press release
Body confidence toolkit launched
Survey coinciding with Body Confidence Week finds half of adults think prospects are affected by looks.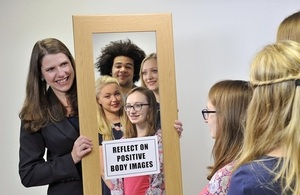 Half of adults believe what they can achieve in life is affected by their looks, according to new findings published today.
The survey, published at the start of national Body Confidence Week, also shows that:
a third of adults believe society puts too much pressure on girls and women to have a sexualised appearance
a third say that a person's value depends on how they look
contrary to the assumption that low body confidence is only an issue for teenage girls, women's body satisfaction does not improve as they move into midlife
The results add to growing evidence that we are increasingly dissatisfied with the way we look, especially women and girls, who are twice as likely to be unhappy about their appearance.
To mark the start of Body Confidence Week, 'Taking Action on Body Image', a specially tailored package of guidance and activities, is being launched for those working with older teenagers. It offers a workshop plan, teachers' notes and advice to help young people tackle low confidence and boost their self-esteem.
The week is an opportunity to celebrate positive body image and challenge negative attitudes and actions that lead to poor self-esteem.
Jo Swinson, Women and Equalities Minister, said:
Low body confidence has a real and damaging impact on health, education and aspirations.

Boys and men are affected as well as girls and women, but there is a particularly marked impact on women and the choices they make in life. They are put under ever-increasing pressure to reach an unattainable body 'ideal' and believe they have to do so in order to expect equality, respect and appreciation. This leads to an enormous waste of time, talent and emotional wellbeing.

We are working with key players in the retail, advertising, fashion and fitness industries to address the causes of low levels of body confidence in our society. We must also support young people to develop resilience in the face of this pressure, and avoid a lifetime of poor self-esteem. That's why I am pleased we're today launching this guidance especially for them.
The guidance will help the National Citizen Service (NCS) and other youth leaders to inspire young people to use their learning to promote positive body image for themselves and others. It has been developed by Beat, the eating disorders charity, and Dr Helen Sharpe from the Institute of Psychiatry at Kings College London, for use by NCS.
Michael Lynas, CEO of the National Citizen Service Trust, added:
We know that body confidence is an issue that touches many young people who take part in National Citizen Service (NCS). Independent evaluation has shown that NCS reduces anxiety and gives young people the confidence to reject social pressures about how they should look.

We hope that these new materials will support more young people on the programme to take some power back, to define for themselves how they should feel about their bodies, and in this way start rebuilding their own confidence, while supporting others in their community through their social action projects.
Susan Ringwood, Chief Executive at Beat, said:
Beat is delighted to have worked on this toolkit. We know how vitally important it is that a generation of young people grow up confident in their own bodies and resilient to the pressures that can undermine their self-esteem.
Body Confidence Week is being supported by a number of leading charities, brands and trade associations, and is in response to the All Party Parliamentary Group for Body Image's report, 'Reflections on Body Image'. The Government Equalities Office is supporting the campaign.
Notes to editors:
Taking Action on Body Image was developed by Beat, the eating disorders charity, and Dr Helen Sharpe from the Kings College London, Institute of Psychiatry, with funding from the Government Equalities Office, for use by the National Citizen Service, a unique, full-time programme aimed at 16- and 17-year-olds.
NCS is a once-in-a-lifetime opportunity open to 16- and 17-year-olds across England and Northern Ireland. It is a unique 2 or 3 week full-time programme focused around fun and discovery, plus 30 hours committed to a community project that benefits both young people and society. On this government backed programme, participants build skills for work and life, while taking on new challenges and adventures, making new friends, learning new skills and contributing to their community. More than 100,000 young people have taken part in the programme since it launched in 2011.
For more information on Body Confidence Week see: www.berealcampaign.co.uk, @BeReal_Campaign or facebook.com/BeRealBodyConfidence
In 2010 the government launched its Body Confidence Campaign to tackle the causes and consequences of body image anxiety by:

responding to public concerns and facilitating public debate to promote cultural change
supporting efforts to promote media literacy and resilience, particularly among young people
developing constructive relationships with industry and other stakeholders to encourage positive action and good practice
Published 13 October 2014