Big Society Bank launched
Two expert boards have been established for the Big Society Bank.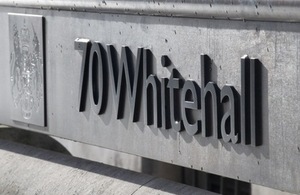 The vision for a Big Society came much closer today as the Big Society Bank - now officially named Big Society Capital - became a reality with the establishment of two expert boards.
In addition the first investment from dormant accounts has gone to the Private Equity Foundation, an organisation whose mission it is to support disadvantaged young people into employment, education or training.
Sir Ronald Cohen, renowned pioneer of venture capital, has agreed to serve as the unpaid, interim Chair of Big Society Capital Limited, the operating company of the group, until it is fully operational and its Board has conducted a search for a more permanent Chair. Nick O'Donohoe, formerly Global Head of Research at JP Morgan, will take the helm as Big Society Capital's first CEO. An experienced board will be working with them to lead this truly groundbreaking initiative as it transforms the world of social finance for charities and social enterprises:
Sir Ronald Cohen, Chair (the Portland Trust and Bridges Ventures)
Nick O' Donohoe, CEO (formerly JP Morgan)
Dawn Austwick (Esmee Fairbairn Foundation)
David Carrington (Independent Consultant)
John Kingston (Association of Charitable Foundations)
Geoff Mulgan (National Endowment for Science Technology and the Arts)
Dai Powell (HCT Group)
Lady Susan Rice (Lloyds Banking Group)
Danielle Walker Palmour (Friends Provident Foundation)
The Board of the Big Society Trust, responsible for ensuring the group stays true to its mission, has also been appointed. Members represent a wide spread of leaders in the social and financial sectors:
Sir Richard Lambert (University of Warwick)
Ian Davis (formerly McKinsey & Co)
Baroness Pitkeathley (House of Lords)
David Robinson (Community Links)
Sir Stephen Bubb (CEO of ACEVO) [ex officio in rotation every three years with NCVO]
Peter Holbrook (CEO of Social Enterprise Coalition) ex officio
Gareth Davies (Cabinet Office) ex officio
Sir Ronald Cohen (Chair of BSC) ex officio
Big Society Capital will be run independently from government with decisions around funding being made by an impartial investment committee. It will play a critical role in speeding up the growth of the social investment market. Socially orientated financial organisations will have greater access to affordable capital, using an estimated £400million in unclaimed assets left dormant in bank accounts for over 15 years and £200million from the UK's largest high street banks. Big Society Capital and the four Merlin banks have also come to an agreement on heads of terms for the banks' £200m investment in the company.
Prime Minister, David Cameron, said:
When I announced the idea of a Big Society Bank, I wanted to help social enterprises and other groups to grow and expand their vital work. I am delighted that with today's announcement of the organisation's first investment, this vision is becoming a reality.
"I've seen the amazing work that Britain's social enterprises already do to tackle some of our country's most intractable problems. I believe that Big Society Capital will play a major role in injecting significant resources and financial innovation into these social enterprises, while at the same time attracting further funding from charitable foundations, private individuals and other investors. That's why I wholeheartedly welcome today's launch and the organisation's first investment.
Douglas Flint (Group Chairman, HSBC Holdings plc), Stephen Hester (Group Chief Executive, The Royal Bank of Scotland Group), Antonio Horta-Osorio (Group Chief Executive, Lloyds Banking Group plc), and Bob Diamond (Chief Executive, Barclays plc) said:
We are delighted to support the government's efforts to transform the UK social finance market and are investing £200 million collectively to launch Big Society Capital as part of that. This is a ground breaking initiative with the potential to be the catalyst for creating a sustainable social finance model in the UK. This investment evidences our commitment to working with the team at Big Society Capital to make their vision of a sustainable social finance market a reality.
Minister for the Cabinet Office, Francis Maude, said:
There are few moments like this when something happens that can really change the world. We've all heard about a small charity or social enterprise sweeping away entrenched local social problems. But we have not seen a significant commitment to help social innovations grow and be implemented on the national stage until now. Big Society Capital will undoubtedly change this and unlock the money that charities and social enterprises need to grow when a big opportunity comes along. This government is proud to support this achievement. I want to thank Sir Ronald Cohen and Nick O'Donohoe and everyone else, including the banks, who have made this a reality so quickly.
Sir Ronald Cohen, Big Society Capital, Non-Executive Chair commented:
Today's launch of Big Society Capital Group marks the culmination of ten years of thought and effort by many individuals and organisations. It is the first of a new kind of organisation devoted to providing finance in the interest of society. The depth and  breadth of The Big Society Trust and Big Society Capital boards, combined with an anticipated £600m in initial funding will enable BSC to attract additional capital to the social sector from charitable foundations, institutional investors, companies and private individuals.
"Innovations such as social impact bonds and a burgeoning array of organisations operating across the social sector suggest that we are on the cusp of a revolution. The social sector now has the prospect of attracting funding in the UK to support social entrepreneurs, much as venture capital and private equity did to support business  some three decades ago.We very much welcome the equity investment by the Merlin banks and a strategic relationship with them in developing the market for social investment in Britain.
This is just one of the many efforts that government is leading to build the UK's social investment market. We will say more about innovative products coming to fruition, such as Social Impact Bonds, in the next few weeks.
To support the early development of Big Society Capital, the Big Lottery Fund has set up an Investment Committee to make some initial investments. Its first investment is an in principle award of up to £1m to the Private Equity Foundation.
John Kingston, Chair of the Investment Committee and until recently Director of CAF Venturesome said:
The Investment Committee's call for proposals has generated a high level of interest, with 40 proposals in so far.  The Committee met on Tuesday and I am very pleased to say has agreed in principle to make its first investment:  up to £1m in a social investment fund run by the Private Equity Foundation to help disadvantaged young people into employment, education or training.
Applications for investment should be initially made to the Investment Committee, details of the fund and application process can be found on the Big Fund website www.biglotteryfund.org.uk.
Notes To Editors
(1) The organisation formally referred to as the "Big Society Bank" will now be known as Big Society Capital Group, and will be constituted as a group of three entities: the Big Society Trust, which is responsible for ensuring that the group is true to its mission; Big Society Capital Limited, which is the operating company of the group; and Big Society Foundation, which will be a charitable foundation able to receive philanthropic donations. Big Society Capital will be a financial institution that aims to increase investment in society. It will do this by supporting organisations that invest in the sector, helping them:
Provide a greater range of financial services to social sector organisations;
Raise more money for onward investment into the sector; and
Become more sustainable and resilient themselves.
Big Society Capital will also be a champion for social investment with policy makers, investors, stakeholders in the sector and the public at large.
(2) The big four banks will commit to provide equity investment over 4 years to be drawn down alongside the dormant accounts monies as they are received. The banks will have rights to income proportional to their contribution to BSC's total capital and senior rights in the event of liquidation of the company. The Big Society Trust will control 80 % of the voting rights of BSC and the Merlin Banks 20%.The Banks will be nominating one representative to the Board of BSC. The Merlin Banks have also agreed to provide BSC with an interest-free loan to assist with its establishment. Completion of a transaction is subject to conditions including agreement on formal documentation, receipt of FSA authorisation and State Aid approval and approval of HM Government.
(3) The Big Society Capital group ("BSC group") has been established to become the social investment wholesaler as defined in Section 18 of the Dormant Bank and Building Society Accounts Act 2008 (the "Act"). On 9 May 2011, Francis Maude, Minister for the Cabinet Office, formally endorsed the outline proposals for the development of the Big Society Bank presented by Sir Ronald Cohen and Nick O'Donohoe and announced that   the Government would expect to capitalise the proposed organisation with money from dormant accounts subject to further development work on organisational design including investment guidelines and selection process, agreement on the founding legal documents of all the entities within the BCS group, and assurance that public funds will be appropriately safeguarded.   Capitalisation with public funds will also be dependent on getting state aid approval from the European Commission and FSA authorisation.
(4) The BSC group comprises a holding company called The Big Society Trust ("BST"), a company limited by guarantee and its operating subsidiary Big Society Capital Limited ("BSC"), a private company limited by shares. It is intended to establish a charitable foundation   which could receive donations from third parties and BSC from time to time, whose purpose would be to put charitable funds to work in direct support of BSC's mission.
(5)  The purpose of the BSC group is to support the growth of a market for social investment in the UK - investments made for social as well as financial returns; to be able to attract greater levels of capital from a more diverse range of sources to address social issues; and to be able to allocate capital more effectively to achieve greater social impact. By supporting the growth of this market, BSC aims to improve very significantly the social sector's ability to access capital and deliver positive benefits to society.
(6) The Outline Proposal for a "Big Society Bank" submitted by Sir Ronald Cohen and Nick O'Donohoe in May 2011 can be found at www.cabinetoffice.gov.uk/resource-library/big-society-bank-outline-proposal
(7) The Big Lottery Fund (BIG), the largest distributor of National Lottery good cause funding, is responsible for giving out 46% of the money raised for good causes by the National Lottery .It also uses its expertise in grant-giving to distribute funding other than Lottery funding. BIG has been directed by government to distribute £5 million of dormant accounts funding through the Big Society Social Investment Fund.
(8) The Private Equity Foundation (PEF) is a venture philanthropy charity that makes grants and uses pro bono business skills to scale up the most effective interventions to achieve its mission. PEF's core mission is to reduce the number of young people not in education, employment or training (NEET) so they can reach their full potential. This is a £1 million investment in PEF to enable them to roll out a programme of payment by results schemes to support young people into employment, education and training. PEF will work through frontline charities with experience in this area and a strong track record of success, ultimately helping young people in danger of leaving school without prospects improve their lives. 
Published 29 July 2011