News story
Big Iftar meal opens to more people than ever before
Mosques across the country will throwing open their doors and cooking meals for the whole community to mark Ramadan.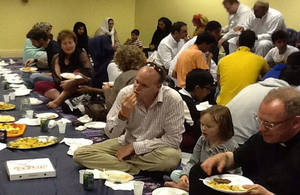 Mosques and Islamic centres across the country will be throwing open their doors throughout July and cooking meals for the whole community to mark the special month of Ramadan.
Communities will get the chance to join in with the Muslim fast breaking meal - known as the iftar - in more than 100 events in towns and cities across the country.
The 'Big Iftar' began last year in the wake of the horrific Woolwich attack with more than 30 events in its first year, but has grown in popularity for this year with more than 3 times as many community meals planned.
Neighbourhoods will get the chance to enjoy traditional cuisine while watching World Cup matches on big screens. There will be a Big Iftar event on the banks of the River Thames and 'flash mob' iftars which could spring up in any park or high street in the country.
Faith and Communities Minister Baroness Warsi said the events would help bring people of all faiths together and break down barriers within communities.
Baroness Warsi said:
This year the Big Iftar will be bigger and better than ever. I'm looking forward to seeing events happening across the country from mosques, synagogues and other places of worship to parks and town centres - bringing together communities of all faiths and none.

There is no better way of breaking barriers and forming friendships than by sharing a meal together and Ramadan is the perfect time to reach out to our neighbours and strengthen relationships.
This year multi-faith iftars will also be taking place in synagogues, the Muslim-Jewish Forum are hosting an iftar open to people of all faiths and none. Both vicars and rabbis will be speaking at events.
Julie Siddiqi, National Coordinator of the Big Iftar said:
The Big Iftar is a brilliant opportunity for Muslims in the UK to open up Ramadan. To bring together the best of what the month has to offer: hospitality, spirituality, caring for others and of course good food! We are saying to Muslims, invite your friends and neighbours in to your Iftars in your homes, in your mosques, in your centres to share good food and conversation with new friends.
Further information
Big Iftars will be held across Birmingham, Essex, Great Yarmouth, London, Leicester, Maidenhead, Manchester, Middlesborough, Milton Keynes, Newcastle, Peterborough, Stoke, Slough and Watford.
For more information visit:
Muslims fast for 29 or 30 consecutive days during Ramadan, from dawn until sunset. Iftar is the special meal prepared daily at the end of the day when the fast finishes.
Ramadan is expected to start on 27 June 2014.
Office address and general enquiries
2 Marsham Street
London
SW1P 4DF
Contact form http://forms.communiti...
General enquiries: please use this number if you are a member of the public 030 3444 0000
Published 27 June 2014