Press release
Better support, treatment and research for millions of patients with rare diseases
The first UK Rare Diseases Strategy was launched by Health Minister Lord Howe today.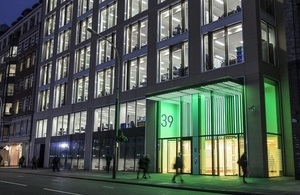 Better support, treatment and research for millions of patients with rare diseases
The UK's first strategy to help build understanding of rare diseases and boost research to find effective treatments and therapies was launched by Health Minister Lord Howe today.
The UK Rare Diseases Strategy aims to ensure that none of the three million people in the UK who are affected by rare diseases are left behind.
For the first time, it sets out a UK-wide vision for building on our reputation as a world leader in rare disease research, including revolutionary genomic research to help transform diagnosis and treatment.
Key elements of the strategy include:
a clear personal care plan for every patient that brings together health and care services, with more support for them and their families
support for specialised clinical centres to offer the best care and support
better education and training for health and social care professionals to help ensure earlier diagnosis and access to treatment
promoting the UK as a world leader in research and development to improve the understanding and treatment of rare diseases
Millions of people in the UK are affected by the thousands of different kinds of chronically debilitating illnesses that are defined as rare diseases. So when looked at as a whole, rare diseases are not rare and our focus should be on making sure that no one who suffers from one is left behind.

For the first time, we are strengthening the links between research and the treatment and care of patients with rare diseases. This is about putting those patients first, with better diagnosis, treatment and support for them and their families.

The UK already leads the way with ground-breaking research to better understand and treat these illnesses and this strategy will help cement our reputation as the driving force in this field.
A rare disease is a life-threatening or chronically debilitating disease that affects five people or fewer in 10,000, and requires special, combined efforts to enable patients to be treated effectively.
There are already more than 5,000 rare diseases identified and the total is steadily rising as new genetic discoveries explain previously unexplained disease patterns. It is estimated that one in 17 people will suffer from a rare disease in the course of their lifetime. In the UK, this means more than three million people will have a rare disease.
Therefore, when looked at as a whole, rare diseases are not rare. They represent a significant cause of illness, making considerable demands on the resources and capacity of the NHS and other care services.
The United Kingdom is a recognised leader in the field of rare disease research, treatment and care. The genomics revolution has the potential to radically transform the diagnosis and treatment of patients with rare diseases over the next ten years. Last year, the Prime Minister, David Cameron, announced that the personal DNA code — known as a genome — of up to 100,000 patients or infections in patients will be sequenced over the next five years. This will improve understanding, leading to better and earlier diagnosis and personalised care.
The project is being led by Genomics England, a company entirely owned by the Department of Health, and rare diseases is one of its key priorities.
In parallel with the launch of the UK Rare Diseases Strategy, the Government announced that the National Institute for Health Research (NIHR) is establishing a Rare Diseases Translational Research Collaboration (TRC). With investment of £20 million over four years, the NIHR Rare Diseases TRC will help to increase research collaboration that will lead to improved diagnosis, treatment and care for people with rare diseases.
Alastair Kent OBE, Chair of Rare Disease UK, which was part of the stakeholder forum that helped shaped the strategy, said:
Patients and families affected by life limiting rare diseases have often struggled to get a diagnosis and to access services that meet their needs. While the NHS has demonstrated that it is capable of delivering a world class service, the experience of patients has been that this is by no means a universal experience.

With the development of the UK Strategy for Rare Diseases patients and families can have a clear expectation of what to expect from the NHS, wherever they live in the UK. For the first time the four nations of the UK have come together to recognise and respond to the needs of rare disease patients systematically, structurally and in accordance with the founding principle of the NHS that treatment should be a response to need.

Turning the UK Strategy's aims into practical benefits for patients will require hard work and detailed planning. Now, at least, patients can have a clear expectation of what the NHS aspires to provide for them, wherever they live in the UK. This is a huge step forward, and the publication of the Strategy will give hope and comfort to the 3.5 million people affected by rare diseases across the UK.
To mark the launch of the strategy, Lord Howe visited Great Ormond Street Hospital, which hosts a large number of nationally commissioned services for rare diseases.
Professor David Goldblatt, Director of Clinical Research and Development at Great Ormond Street Hospital and Director of the NIHR Biomedical Research Centre, said:
Many of the children attending Great Ormond Street Hospital suffer from rare diseases. Their families' experience of delays in the recognition of their syndrome or the absence of a clear diagnosis can be profoundly affecting. We look forward to continuing our work, in partnership with local NHS Trust and Primary Care physicians, in improving the experience of families with rare diseases.

Rare diseases are under-researched at present and in response, the NIHR-funded Biomedical Research Centre at GOSH/UCL is now focussing almost exclusively on rare disease experimental research. While Great Ormond Street Hospital has made some great strides, for example in pioneering gene therapy, much more work needs to be done.

Our ambition is to invest in rare disease research and advance understanding and treatments for the benefit of patients across the world. The hospital's charity is building a new Centre for Children's Rare Disease Research for the hospital and UCL Institute of Child Health, which will play a key role in developing therapies for many disorders for which no treatment or cure currently exists.
Background information
Click here to view the UK Rare Diseases Strategy.
Rare Disease UK (RDUK) is the UK alliance for people with rare diseases and all who support them. RDUK has over 1,400 members including over 240 patient organisations, individual patients and carers, clinicians, health professionals, researchers and industry.
RDUK is an initiative of Genetic Alliance UK, the national charity of over 160 patient organisations supporting all those affected by genetic conditions.
Published 22 November 2013
Last updated 22 November 2013
+ show all updates
link to the strategy document and audioboo now added
First published.