News story
Best of British culture to take China by storm
Chancellor unveils funding whilst in Beijing to open up some of the country's best arts and culture to Chinese audiences.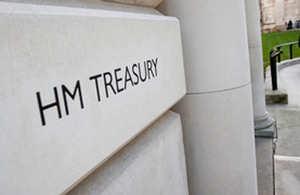 Some of the nation's best loved treasures are set to travel thousands of miles across the globe as part of the Chancellor's plan to showcase the very best of British culture in China.
From Shakespeare to Hockney, to exhibitions which explore world history from two million years ago to the present, the Chancellor has unveiled funding whilst in Beijing to open up some of the country's best arts and culture to Chinese audiences.
As part of this, he has announced that an estimated £750,000 of funding will ensure that the British Museum's blockbuster exhibition, 'A History of the World in 100 Objects' can be exhibited in China for the first time.
The announcement was made at the National Theatre in Beijing, ahead of the UK-China Economic and Financial Dialogue.
The exhibition has been enjoyed by more than 640,000 visitors to date and is in the middle of a global tour from Abu Dhabi to Australia.
Discussions are underway to bring the tour to Europe following display in China.
The British Museum's director and the man behind the A History of the World project, Neil MacGregor, joined the Chancellor in China to make the announcement.
Mr MacGregor's BBC podcast of the 2010 Radio 4 series has been downloaded more than 40 million times globally, and his book on the topic has been translated into both simplified and complex Chinese.
Building on last year's Economic and Financial Dialogue announcements, which included funding for the Royal Shakespeare Company to tour China, Mr Osborne also confirmed a raft of other support measures.
These include £1.6 million for the British Library to display some of its most iconic literary treasures in China for the first time ever, and £1.3 million to support the presentation in China of Tate's exhibition 'Landscapes of the Mind: British Landscape Painting (1700 – 2007)', among other announcements.
Hosted by the British Council, the event in Beijing was attended by some of the UK's most respected names in the arts and culture field including Shakespeare's Globe's CEO, Neil Constable; Roly Keating, the CEO of the British Library; Jude Kelly, the Southbank Centre's artistic director as well as Peter Bazalgette, chair of Arts Council England.
Chancellor of the Exchequer, George Osborne, said:
Britain's world-class cultural institutions, education and brands are internationally renowned and respected, and a key element of our global economic and political influence.

That's why I've ensured that government funding will continue to support some of our greatest museums, galleries and theatre companies – including the British Museum, Tate, Shakespeare's Globe and the Royal Shakespeare Company – to boost their profile in China.

As we enter a golden decade of UK China relations, reinforcing cultural links is vital and will also support the UK economy through promoting trade and tourism between our two great nations.
Neil MacGregor, director of the British Museum, said:
This exhibition is the latest example of the long and happy friendship between the British Museum and the National Museum of China.

More than any other collection on earth, the British Museum can tell the story of all humanity – thanks to Britain's openness to the world across the centuries.

This exhibition traces the shared concerns and achievements of mankind over nearly two million years, a story in which China has always played a central role.

I am delighted that the UK government's funding will now allow thousands more people across China to enjoy the exhibition and explore and understand cultures from across the globe.
Roly Keating, chief executive of the British Library, said:
As a global institution for world culture and knowledge, the British Library is thrilled to be taking some of our greatest literary treasures to share with audiences in China.

Writers such as Shakespeare, Dickens and the Brontës continue to resonate with people across the world, and nothing compares to the excitement of seeing original manuscripts at first-hand.

These displays will allow the Chinese public to engage with Britain's rich literary heritage as never before.
Kerstin Mogull, managing director at the Tate, said:
Tate is delighted to have the opportunity to work with colleagues in China on the exhibition Landscapes of the Mind: British Landscape Painting (1700 – 2007).

We thank the Chancellor and the Treasury for supporting this opportunity for audiences in China to see the greatest works of British landscape art.

Given the great tradition of Chinese landscape painting, it is exciting to celebrate our shared interests as we seek to deepen our cultural exchange.
Catherine Mallyon, executive director at the Royal Shakespeare Company, said:
We strongly believe that sharing arts and culture between nations helps us understand one another and we are thrilled to be touring to Beijing, Shanghai and Hong Kong early next year, with our productions of Shakespeare's Henry IV Parts I&II and Henry V.

We are hugely excited by the ambition of our Chinese partners and we also look forward to celebrating China's rich dramatic heritage and Shakespeare's legacy through our initiative to translate Shakespeare into Chinese and Chinese classics into English.

We begin our long term cultural exchange programme in Shakespeare's 400th anniversary year and we are very grateful to the UK government for their support and to the Chinese Cultural Embassy in London for their deep commitment and active engagement.
Neil Constable, chief executive at Shakespeare's Globe, said:
We are grateful to the Chinese government for so warmly welcoming Shakespeare's Globe to China and for sending to the Globe stage a magnificent Richard III in Mandarin.

Shakespeare's Globe looks forward to enriching its expanding relationship with Chinese arts organisations, audiences and students.

The Chancellor's support enables us to strengthen our current touring programme and take our full-scale, acclaimed production of The Merchant of Venice to cities across China, giving an experience as close as possible to a major performance in the Globe Theatre.

In addition, with its experience in integrating learning and performance, Globe Education will establish a centre for performance arts teaching and training in China.

Over the next four years it will work with Chinese theatre companies and arts organisations to develop learning and community programmes, offering exchange study facilities and residencies.
Director of the V&A Martin Roth said:
Having had many curatorial and exhibition exchanges with partners in China, the V&A is looking forward to the next level of collaboration, this joint research project on a very large scale led by the our internationally respected scholar of Chinese art Dr Hongxing Zhang.

We are really delighted that the UK government sees this as a positive development for the future and we look forward to this opportunity to deepen cultural understanding between Britain and China.
VisitBritain chief executive officer Sally Balcombe said:
We know that Chinese travellers rate culture, history and historical experiences high on their list of must-dos, which is excellent news for Britain which excels in these tourism offers.

Visitors from China also have a high propensity to travel beyond London which suggests that our history and cultural offerings outside the capital also resonate really well.

International visits from China have more than doubled over the last five years from 89,000 in 2009 to 185,000 in 2014, with the country set to become one of the UK's fastest-growing tourism markets.

Chinese visitors are also some of our highest spending, spending an average of £2,600 each, four times more than the average traveller.

The Chinese have very positive perceptions of Britain and VisitBritain will be working hard to further increase their desire to travel here through high-profile campaigns in China, as part of our GREAT campaign.
Lisa Burger, executive director of the National Theatre, said:
For the last two years we have been working with the National Theatre of China, as part of an ongoing skills exchange, to bring War Horse to audiences in China.

In that time fifty theatre-makers and staff from the National Theatre in London have travelled to Beijing to share their craft, knowledge and expertise.

War Horse opened in Beijing on 4th September to enthusiastic and young audiences and we are now delighted to be receiving a grant from the Chancellor that will allow us to develop the tour across China.

In sharing established and cutting-edge British theatre practice with our Chinese theatre colleagues, we hope to open up pathways for the UK's world-leading theatre companies to take their own work to China, as part of the growing cultural exchange between our two countries.
Published 21 September 2015