Press release
Baroness Warsi focuses on UK-Afghan partnership during Kabul visit
Baroness Warsi has been in Kabul for talks on the UK-Afghanistan Strategic Partnership & the 2014 presidential and provincial elections.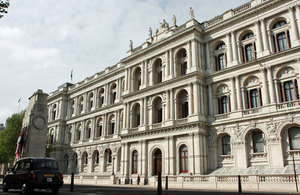 Senior Foreign Office Minister Baroness Warsi made her fourth visit to Afghanistan between 5-6 November. During her visit the Minister had a meeting with President Karzai and co-chaired the second meeting of the Joint Commission on the implementation of the UK-Afghanistan Enduring Strategic Partnership.
The Minister followed up with President Karzai on his recent visit to London including the discussion at the trilateral meeting on 29 October. The Minister also took the opportunity to discuss preparations for the upcoming presidential and provincial elections with Yousuf Nooristani, Chair of the Independent Electoral Commission.
The Minister was able to renew friendships with female parliamentarians, discuss the challenges facing them and reaffirm the UK's commitment to supporting the Afghan parliament and the participation of women in the political and electoral process.
In all her meetings, the Minister underlined the UK's long-term commitment to Afghanistan after the final UK combat troops leave at the end of next year, including in maintaining the UK's current development assistance of £178 million per year until at least 2017. She also stressed the importance of consolidating progress made over the last ten years including the rights of women.
Speaking after her visit, the Minister said:
On my fourth visit to Kabul I am once again struck by how far Afghanistan has come since 2001 and the determination of the Afghan people to hold on to the gains made in all areas of society but particularly education, health and human rights. The UK has committed to support Afghanistan for the long term. The relationship between our two countries is based on mutual respect and a shared interest in the stability and prosperity of Afghanistan and the region.
The Minister reiterated the UK Government's commitment through the trilateral process to encourage progress on a political settlement and the wider strategic partnership between Afghanistan and Pakistan. Along with credible and inclusive elections in 2014, this would be important for the future stability of Afghanistan and the region.
Further information
Follow Foreign Office Minister Baroness Warsi on twitter @SayeedaWarsi
Follow the Foreign Office on twitter @foreignoffice
Follow the Foreign Office on facebook and Google+
Published 6 November 2013
Last updated 6 November 2013
+ show all updates
Added translation
First published.