News story
Baroness Anelay's visit to the UN in New York
Baroness Anelay visited the United Nations in New York and participated in the ICC's Assembly of State Parties between 11 and 12 December.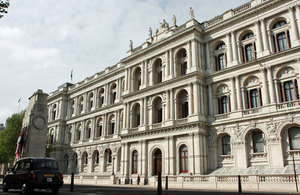 During her visit, Baroness Anelay met senior officials at the International Criminal Court (ICC) and discussed UK support to the ICC and challenges for international justice. She also participated in events on tackling sexual violence and ending impunity.
The Minister also met a small group of permanent representatives from across the globe to discuss the areas of agreement between our countries on the post-2015 development agenda, and how governments could work together during General Assembly negotiations in 2015 to secure a transformative framework.
Baroness Anelay also met United Nations officials to discuss the work of the UN to improve its effectiveness and British Nationals working at the UN to hear their views of what it is like to work for the UN.
Speaking in New York, Baroness Anelay said:
I am pleased to have participated in this year's Assembly of State Parties of the International Criminal Court in New York. In particular, I was pleased to meet those who share the UK's objectives on the need to tackle impunity and deliver justice for the victims of mass atrocities across the globe.
Further information
Follow Foreign Office Minister Baroness Anelay on twitter @JoyceAnelay
Follow the Foreign Office on twitter @foreignoffice
Follow the Foreign Office on facebook and Google+
Published 15 December 2014