Press release
Baroness Anelay visits The Hague
Foreign Office Minister Baroness Anelay visited The Hague on 28 and 29 January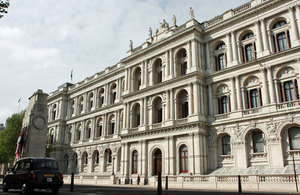 During a two day visit to The Hague, Baroness Anelay met with International Trade and Development Minister Lilianne Ploumen, senior representatives of the international legal institutions and the Director General of the Organisation for the Prohibition of Chemical Weapons, Ahmet Üzümcü.
Following the visit Baroness Anelay said:
I am pleased to have been able to reaffirm the UK's support for the institutions in the international city of peace and justice. I place great value on the work done in The Hague, particularly in the fight to rid the world of chemical weapons, accountability for the victims of the most serious crimes, and preventing the use of sexual violence as a weapon of war.
The Minister, who is the Prime Minister's Special Representative on Preventing Sexual Violence in Conflict, also visited the impressive new permanent premises of the International Criminal Court and the Peace Palace, which houses the International Court of Justice.
Further information
Published 29 January 2016