Press release
Baroness Anelay to address UN on Britain's commitment to human rights
Minister for Human Rights will address UN Member States, urging consolidation of progress on human rights, implementation of UN obligations and better prevention of violations and abuses.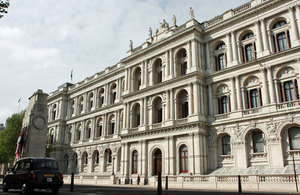 Baroness Anelay will visit the United Nations in New York from 11 - 13 July 2016 where she will attend meetings to discuss human rights, sexual violence in conflict and peacekeeping reform.
On human rights, Baroness Anelay will attend a Ministerial debate at which she will urge governments around the world to uphold their human rights obligations and do more to prevent human rights violations and abuses.
During her visit, in advance of the UN Peacekeeping Defence Ministerial in September, the Minister will also discuss peacekeeping reform, including ending sexual exploitation and abuse. The Minister will meet with other Member States to build support behind her campaign to end stigma of survivors of sexual violence in conflict.
Speaking ahead of the visit, Baroness Anelay said:
The UK is at the forefront of international efforts to promote human rights, improve peacekeeping, promote women's participation in peace processes, and end sexual violence in conflict. But this is a collective responsibility and cannot be achieved by one country alone. I am pleased to be going to New York to discuss with our global partners how we can work together to deliver these shared goals.
Further information
Published 10 July 2016