Press release
Bank switching to be overhauled
Current account holders will soon be able to more easily change banks, with an overhaul of the switching service to be delivered in a year.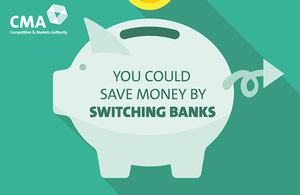 The Competition and Markets Authority (CMA) has today accepted undertakings from Bacs Payment Schemes Ltd (Bacs) that commit it to delivering the improvements required by the CMA retail banking market investigation within a year.
An important change will be the extension of the redirection service operated by the Current Account Switch Service (CASS). This is designed to give further assurance to customers that all their payments will be switched from their old account to their new one, and so overcome a key concern about moving banks.
At the moment only 3% of personal and 4% of business customers switch to a different bank in any year, even though personal customers in Great Britain could typically save £92 per year by switching provider. Small firms could realise savings of around £80 a year on average.
Alasdair Smith, Chair of the CMA retail banking market investigation, said:
Switching is the key way for people and small firms to find better banking deals and save money. Improvements to the switching service will give customers better information about, and so greater control over, their finances. This in turn will make it easier to move their money and capitalise on better offers.

Our banking investigation demanded that banks worked harder for their customers. Taken together, its 17 recommendations will save customers between £700 million and £1 billion over 5 years.
Bacs has also been tasked by the CMA to work with banks and increase both awareness of and confidence in CASS. They will now work together to target those likely to benefit from switching the most, such as overdraft users and customers with high credit balances, and make sure they know other options are available to them. A key requirement of the banking investigation has already been delivered – to introduce independence to the switching service. Previously run by the banks it represented, CASS now has an independent chair in place to ensure the service works for those who use it, not just those who run it. Consumer groups and price comparison websites will now be able to influence how the service operates and promotes itself.
In August 2016 the CMA published its final report, which demanded 17 changes to make banks work harder for their customers.
Further reforms will be announced shortly and a full timetable for implementation is available on the case page.
Notes for editors
The CMA is the UK's primary competition and consumer authority. It is an independent non-ministerial government department with responsibility for carrying out investigations into mergers, markets and the regulated industries and enforcing competition and consumer law. For CMA updates, follow us on Twitter @CMAgovuk, Flickr, LinkedIn and Facebook.
Media enquiries should be directed to Simon Belgard (simon.belgard@cma.gsi.gov.uk, 020 3738 6472).
Published 17 January 2017