News story
Baby clothing firm wins £200,000 in export orders in South Korea
Brighton based Bonnie Baby secures deals to supply their clothing to several of the country's high end boutiques.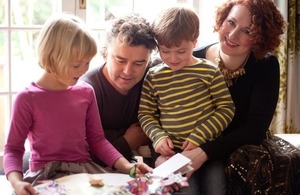 Bonnie Baby won the contracts after exploring the market during a visit in 2012 with UK Trade and Investment (UKTI). The visit to South Korea was recommended by their UKTI export adviser.
The company sells beautiful British designed clothing for babies and children which have a strong following. The 'Apple of Daddy's Eye' range was bought in its entirety by Hollywood actress Gywneth Paltrow.
Gareth Griffiths, Director of Bonnie Baby, arranged meetings with several potential customers during the visit to Seoul. Most came back indicating they wanted to work with Bonnie Baby.
Gareth Griffiths said,
After an extremely successful first season we have finalised orders worth £200,000 a year.

The British brand and heritage is extremely popular in South Korea. They like the quality and playful designs. They trust it and customers aspire to buy British brands.
Following this success Bonnie Baby are now looking to develop their business in the US market.
Developing business in Asia
Bonnie Baby began to get enquiries from across Asia in 2010. They then approached UKTI for help.
Estelle Dingley, International Trade Adviser for UKTI South East, worked with the company to develop their business in Asia. This included getting them on to UKTI's Passport to Export programme.
Gareth Griffiths said:
Asia is now a huge market for us with 50% of our turnover from sells in Hong Kong, mainland China and Japan each year.

We opened our flagship store in Hong Kong in 2012 and we now have 4 points of sales in Shanghai and Beijing. Hong Kong was the natural gateway to mainland China.

Our products are mainly sold via high end boutiques although a large percentage of our goods are sold online.
South Korea market
The demand for UK goods in South Korea has risen 232% over the past 10 years.
South Korea's service industries are increasingly opening up offering more opportunities for UK companies.
UK Ambassador to South Korea, Scott Wightman, said:
South Korea is one of the fastest growing and most exciting markets in the world, and there has never been a better time for South East companies to do business there.

The recent EU-South Korea Free Trade Agreement has resulted in the vast majority of tariffs being removed.

UK exports have doubled since 2011 and opportunities exist across all sectors, from advanced technology through food and drink to legal services and, of course, marine. British quality is very much in demand.
Bonnie Baby
Bonnie Baby was set up by acclaimed designer Tracey Samuel in 2005. The firm, based in Hove was created by Tracey after she was inspired by her first child, Alice Bee.
Contacts
Published 12 November 2014