Awards announced from £2 million homophobic bullying fund
Funds awarded to projects to train school staff and provide support for pupils affected by homophobic, biphobic and transphobic bullying.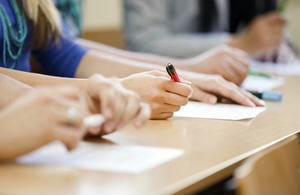 Today eight organisations will be told they are to get a share of £2 million to help prevent and eradicate homophobic, biphobic and transphobic (HBT) bullying. The funding was announced by Jo Swinson, Minister for Women and Equalities, and Secretary of State for Education, Nicky Morgan, in October 2014.
Homophobic bullying in schools is decreasing: 55 per cent of lesbian, gay and bisexual young people surveyed for Stonewall's 2012 School Report said they had experienced homophobic bullying, down from 65 per cent in 2009.
However further action is still needed. Metro's Youth Chances Survey 2014 found that more than half of gay young people had experienced either discrimination or harassment. In a report from Stonewall last year 86 per cent of secondary school teachers and 45 per cent of primary school teachers said pupils at their school had experienced homophobic bullying. Most (89 per cent for secondary schools and 70 per cent for primary) had heard homophobic language used. Teachers say they lack the knowledge and confidence to tackle HBT bullying effectively. These projects will help to build that confidence by providing training and resources for school staff.
Minister for Women and Equalities, Jo Swinson, said:
It's good news that schools are making progress on homophobic bullying, but it must be eradicated entirely. The trauma of being bullied at school can stay with you for life, and it is absolutely unacceptable that those who may be gay, lesbian, bisexual and transgender are being targeted. Teachers need specialist support and training to help them stamp out homophobic bullying, which is why we have funded these excellent projects which are designed to tackle this issue head on.
The organisations awarded funding are:
Anne Frank Trust – to run workshops and educate young people about prejudice and the impact of the Holocaust on lesbian, gay and bisexual people.
Barnardo's – to provide face-to-face support for victims of HBT bullying and training for staff with a focus on cultural issues in schools in Leeds and Wakefield.
Diversity Role Models with Brook – to develop and deliver training on tackling HBT bullying to 10,000 teachers and staff in 400 schools.
EACH – to deliver a training and resource programme in schools across Avon and Somerset.
Educate & Celebrate – to train staff in 60 schools, giving them confidence and strategies to address HBT language and bullying and promote inclusiveness throughout the school environment and the curriculum.
National Children's Bureau – to train 1,500 teachers on tackling homophobia, biphobia and transphobia through PSHE.
Show Racism the Red Card – to hold workshops with 2,000 young people at football clubs around England, train 200 teachers and run a film competition for young people on tackling HBT bullying.
Stonewall – to extend and share its 'train the trainer' course with 60 partner organisations, enabling them to run the programme with schools in their local communities and giving them the skills to tackle HBT bullying.
Marcel Varney, Assistant Director for Barnardo's, said:
At Barnardo's, we hear about HBT bullying from the young people we work with across the organisation. We know that the bullying of a young person because of their sexuality can be incredibly damaging and can impact dramatically on a young person's ability to succeed at school.

This commitment from the government will enable us to reach hundreds of young people to alert them to the impact of HBT bullying. It's a big step towards stamping out HBT bullying. We aim to improve the visibility of LGBT lives in the school environment and ensure that young people are supported regardless of culture or religion.
Suran Dickson, Chief Executive Officer of Diversity Role Models, said:
Homophobic, biphobic and transphobic bullying can affect all students who don't conform to certain stereotypes, regardless of whether they are in fact LGBT. Diversity Role Models is delighted to have been given this grant so we and Brook can work with schools on this exciting project, to increase staff's confidence in tackling this type of bullying, and to make schools safer and better places to learn.
Notes to editors:
On 29 October 2014 the Government Equalities Office (GEO) and Department for Education (DfE) announced an invitation to tender for grants of up to a total of £2 million to fund activity to prevent and tackle HBT bullying in schools. The eight organisations have been chosen as a result of this process. £1.8 million has been awarded directly to organisations and the remainder will support an independent evaluation of the projects to understand impacts, share learning more widely and inform future initiatives.
Grants have been awarded as follows:
Anne Frank Trust – £104,894
Barnardo's – £263,218
Diversity Role Models with Brook – £277,722
EACH – £189,304
Educate & Celebrate – £214,048
National Children's Bureau – £128,754
Show Racism the Red Card – £119,557
Stonewall – £465,594
A new website, Stop Online Abuse, has also been launched providing advice on what action individuals, especially women and LGB&T people, can take against offensive, damaging or threatening content online and in other media. It has been developed by Galop in consultation with Trans Media Watch, the Women's Resource Centre, Gender Identity Research and Education Society, Rights of Women, Allsorts and the LGBT Consortium.
The government has already taken a number of steps to reduce all forms of bullying in schools. We are providing more than £4 million to organisations working with schools on tackling bullying, and training teachers to tackle homophobia. We have strengthened teachers' powers to deal with bullying, including their ability to deal with cyber bullying by checking mobile phones and other devices. Schools are now held to account by Ofsted on tackling bullying and behaviour effectively.
DfE enquiries
Central newsdesk - for journalists 020 7783 8300
General enquiries - for members of the public 0370 000 2288
Published 24 March 2015