Press release
Averies brothers convicted after notorious major fires
Company Director, Lee Averies has been given three 12 month prison sentences to run concurrently by Swindon Crown Court today (Thursday 27 October 2016).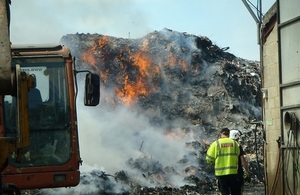 Company Director, Lee Averies has been given three 12 month prison sentences to run concurrently by Swindon Crown Court today (Thursday 27 October 2016). The sentences will be suspended for two years. Lee Averies' younger brother, David Averies has been ordered to pay over £54,000 in fines and costs.
Lee and David Averies appeared at Swindon Crown Court to be sentenced before Sir John Royce (sitting as Deputy High Court Judge) in relation to serious environmental offences committed at their waste sites: Swindon Skips Ltd at Brindley Close, Cheney Manor and Averies Recycling (Swindon) Ltd at Marshgate in Swindon, Wiltshire. Lee Averies was also sentenced for a similar offence at his waste site in Calne, in his capacity as a director of Calne Aggregate Holdings Ltd. A guilty plea has been entered on behalf of the company which will be sentenced after confiscation proceedings are concluded in 2017.
Lee Averies, who has accepted he was "reckless", was sentenced to 12 months imprisonment on for each of the three offences, suspended for two years. He was also made the subject of a Criminal Behaviour Order which effectively prevents him working in the waste industry for five years. A conviction for failing to comply with such an order carries a penalty of up to five years imprisonment, a fine or both.
David Averies who accepted he was "negligent", was ordered to pay fines of £4,208 and costs of £50,000. He was also disqualified from acting as a company director for three years.
The offences committed in relation to all three sites relate to the treating, keeping or disposing of waste in a manner likely to cause pollution of the environment or harm to human health due to the inadequate infrastructure, volumes of waste and management of the sites. The charges cover the period when there were two serious fires at their sites in Brindley Close and Marshgate in November 2013 and July 2014 respectively. The operator also failed to comply with the conditions of the permit for the Calne site, where some of the fire affected waste was taken in July 2014.
The fire in 2013 at Brindley Close burned for a week and smouldered for some time after - causing disruption to the local community, businesses and delays on the nearby main railway line to Cheltenham. The second fire at the Marshgate site was even more serious and burned for 57 days until mid September 2014. Businesses in the area were severely disrupted and on occasion had to stop trading altogether. Local residents and those who worked in the vicinity were affected by the smoke.
Given the severity of the incident a Strategic Co-ordinating Group was convened by the Local Resilience Forum and on 31 July 2014 the fire at the Marshgate site was declared a major incident. The Environment Agency worked with its partner agencies (which included Swindon Borough Council and Wiltshire Fire & Rescue Service) to ensure waste was removed from the site to allow the fire and rescue service to tackle the fire. The defendants were offered the use of a temporary site under a licence from Swindon Borough Council, which they declined.
Immediately after the fire at the Marshgate site in 2014, the Environment Agency removed the waste carriers licence from Averies Recycling (Swindon Ltd), as a result the company could no longer collect waste from local businesses or residents. The Environmental permits have been revoked at the Swindon sites, without which a waste transfer station cannot be operated legally. The procedure for revoking the permit at the site operated by Calne Aggregates Holding Limited is also underway.
Colin Chiverton, Area Environment Manager for the Environment Agency said:
The Environment Agency has worked hard to minimise the disastrous legacy the Averies brothers have left behind. If we and other incident responders had not taken the action we did then the impact on people, the environment and local infrastructure could have been catastrophic.
Lee Averies and Averies Recycling (Swindon) Ltd had been convicted of similar offences in 2013 at Bristol Crown Court and despite assurances from Lee Averies to the Court and the Environment Agency that he would comply with the conditions of the permit in future; he continued to manage the sites in a manner which put people, the environment and infrastructure at serious risk.
The Environment Agency committed considerable resources in order to provide advice and guidance. Environment Agency officers tried to work with the operators, but after repeated breaches had to take enforcement action and served legal notices on all three sites. The operators' non-compliance led to a criminal prosecution.
Colin Chiverton added:
Averies earned huge sums of money by importing waste onto both sites and stockpiling that waste to save on the cost of lawful disposal. They were well aware of the risks of fire and the heightened risk to the environment as a result. They decided to save further expenditure by failing to exercise proper management control of the site and failing to ensure sufficient infrastructure and security for the sites.
In his sentencing remarks, Sir John Royce said that Lee Averies' culpability was at the high end of the reckless category. He also remarked that the incident at Marshgate "was an extremely serious one that lasted 57 days and involved at least 90 staff". The incident was also the "longest continuous operation by Wiltshire Fire Service had engaged in". He went on to say that the harm it caused is vividly described by a large number of witnesses whose lives and business were seriously interfered with. It caused distress, anger, disruption and inconvenience.
Consideration of any financial penalties and orders for costs in relation to Lee Averies and CAHL have been deferred until POCA is concluded in 2017.
Published 27 October 2016
Last updated 27 October 2016
+ show all updates
Added image
First published.