Attack on British Embassy vehicle in Yemen
Foreign Secretary William Hague has described this morning's attack on British Embassy staff as "shameful".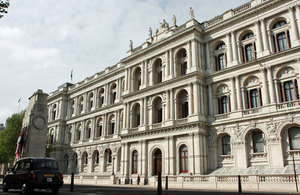 The vehicle was on its way to the British Embassy, with five Embassy staff on board. One member of staff suffered minor injuries and is undergoing treatment, all others were unhurt. We are informing their families at the moment.
Speaking after the attack the Foreign Secretary said:
"This morning's attack on staff of the British Embassy in Sana'a highlights the risks our diplomats face working for Britain's interests abroad. I am relieved to hear that only one minor injury was caused. I am full of admiration for the way our Embassy is dealing with this difficult situation. The members of staff affected are receiving the full support of their colleagues and the Foreign and Commonwealth Office. This shameful attack on British diplomats will only redouble Britain's determination to work with the Government of Yemen to help address the challenges that country faces. Last week I chaired a meeting of the Friends of Yemen in New York and this important work will continue."
Yemeni Foreign Minister Abu Bakr Al Qirbi has promised the Foreign Secretary that the Government of Yemen would carry out a vigorous investigation of the attack, and keep him informed about the investigation. The Foreign Secretary thanked the Foreign Minister for the co-operation of the Yemeni security forces in the immediate aftermath of the attack.
The Foreign Secretary has also spoken to the British Ambassador in Yemen, to express his concern both for the British Embassy staff caught up in this attack, but also for the innocent bystanders caught up in this morning's violence.
In April 2010 there was a terrorist attack in Sana'a involving the British Ambassador. No British nationals were injured in this attack.
Published 7 October 2010