Press release
Assad inauguration has no legitimacy, says Foreign Secretary
The Foreign Secretary has denounced the dictator's inauguration today as a parody of democracy that did not reflect the will of the people of Syria.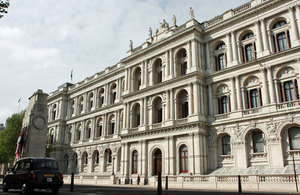 The Foreign Secretary Philip Hammond said:
Today's so-called inauguration in Syria and last month's elections are parodies of democracy. Assad lost all popular legitimacy through the extreme violence he has inflicted on his own people. He had zero legitimacy before these so-called elections, and he still has zero legitimacy today.
It is not remotely realistic to talk about Assad remaining in power as a way of bringing the conflict to an end. As he claims victory, the brutality and illegitimacy of his regime is demonstrated by the barrel bombs, aerial bombardments, and chemical weapons attacks it has inflicted on innocent civilians. The Assad regime is a source of terrorism in Syria, not the solution to it.
Ending this conflict is strongly in our national interest. Syria poses a growing threat to UK, regional and international security.
That is why the government is committed to seeking a political solution, and it is why we continue to support and strengthen the moderate opposition who have a pluralistic, democratic vision of a future Syria.
Further information
Follow the Foreign Office on Twitter.
Follow the Foreign Office on Facebook & Google+.
Published 16 July 2014