News story
Aspiring tenants behind Right to Buy surge
The numbers of tenants taking up the Right to Buy their council home has more than doubled.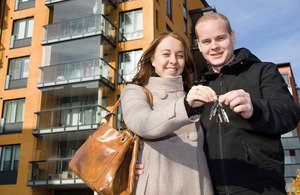 Figures published today (16 May 2013) show that the number of homes sold between April 2012 and April 2013 totalled 5,942, more than double the number sold in the previous year and the highest numbers of sales since 2007.
Launched in April last year, the reinvigorated Right to Buy offers eligible tenants discounts of up to £75,000 off the value of their home, and up to £100,000 in London.
A total of 2,449 properties were sold between January and March this year, more than 4 times the 566 sold during the same period in 2012.
Housing Minister Mark Prisk said that with discounts increased to a maximum £100,000 in London, and moves to make even more tenants eligible for the Right to Buy, these sales figures could increase even further over the coming year.
The minister also pointed to a range of measures the government is taking to increase awareness among tenants about the reinvigorated Right to Buy offer, including workshops and roadshows in local areas.
Today's figures only account for sales of council-owned properties: on top of this, thousands of housing association tenants can also take up their preserved Right to Buy – meaning even more people will be able to become homeowners through the scheme.
"Seizing the opportunity" of Right to Buy
Mr Prisk said the government was determined to help people who work hard and want to get on, and today's figures demonstrated the real appetite among tenants to "seize the opportunity" to become homeowners.
Going forward even more people could now be able to access to the scheme. Currently tenants need to have lived in their council property for at least 5 years before they are eligible, but under measures announced in the Queen's Speech, this will be reduced to 3 years, significantly increasing the numbers of people able to take up the offer.
Housing Minister Mark Prisk said:
I'm delighted that so many tenants are choosing to seize the opportunity to get on the property ladder through the reinvigorated Right to Buy. As a government we are determined to ensure that whoever you are – whether a prospective first time buyer, an existing homeowner or a social tenant – if you work hard and want to get on, we will support you to move up the property ladder.

But I want to go further and ensure as many people as possible are able to take up this offer to buy their council home. That's why we're making changes so anyone who has lived in a council property for at least 3 years could be eligible for the scheme, and tenants living in London can now benefit from a discount up to £100,000.

Any tenant interested in seeing whether they are able to take up the Right to Buy should contact their council or visit our website to see what steps they can take towards home ownership.
Surge in sales across the country
These 5,942 sales have generated £368 million in gross income. Under the reinvigorated Right to Buy, receipts from additional sales will be recycled back into new affordable homes for rent.
Councils across the country have seen a surge in Right to Buy sales over the past year. Some of the biggest increases in sales have been seen in:
Haringey with 79 sales: 887% more than the previous year
Greenwich with 129 sales: 617% more than the previous year
Welwyn Hatfield with 68 sales: 580% more than the previous year
Southwark with 94 sales: 291% more than the previous year
Newcastle with 90 sales: 221% more than the previous year
Kirkless with 110 sales: 205% more than the previous year
Sandwell with 184 sales: 142% more than the previous year
Birmingham with 310 sales: 109% more than the previous year
Wolverhampton with 119 sales: 98% more than the previous year
Town hall support for Right to Buy
Councils across the country have welcomed the government's extra support for aspiring tenants.
Councillor Phil Turner, Deputy Leader of Basildon Council said:
Since the Right to Buy scheme was launched last year council tenants now have a greater opportunity to buy their house and become homeowners.

Under the scheme around 9,000 council tenants in the Basildon borough can take advantage of increased discounts of up to £75,000 to help them buy their house.

Applications have increased by 400% and the numbers that have gone through to completion has doubled. This illustrates how popular this scheme has become and how the people of Basildon are grabbing this opportunity with both hands.
Councillor Richard Hurley, Cabinet Member from Swindon Borough Council, where sales have more than doubled from 13 in 2011 to 2012 to 40 in 2012 to 2013, said:
Many people locally find it extremely difficult to buy their first home due to the level of household incomes compared to local house prices. Swindon Borough Council recently organised a home ownership event at which a range of affordable home ownership schemes were showcased, and the event was a great opportunity for residents to consider a variety of ways in which they can affordably purchase their first home.

Most people on the day were keen to investigate the possibilities of buying their council house or flat. The council will be using monies received from the sale of council housing to deliver as many new affordable homes as possible over the coming years.
Councillor Roger Trigg, Executive Member for Housing and Community for Welwyn Hatfield Borough Council, said:
The Right to Buy offers a great opportunity for tenants who wish to, and can afford to move into home ownership. It has been extremely popular in the borough. We have already seen a large increase in the number of sales, with figures up from 10 in 2011 to 2012 to 69 in 2012 to 2013.
In Wandsworth, where the number of successful purchases rose from just 2 in the final year of the old system to 54 in the following 12 months, Council Leader Ravi Govindia said:
The Right to Buy their own home has transformed the lives of millions of people in this country. It has brought the ambition of home ownership to life for many who would otherwise have not been in a position to afford their own home.

The scheme has always been about giving a helping hand to ordinary people who aspire to improve their lives. It has given them a greater stake in their communities and helped regenerate entire areas. I am delighted that the recent changes have enabled so many more people to fulfil their dream of home ownership.
Further information
The latest statistics for Right to Buy sales in England, quarter 4, 2012 to 2013, were published today.
Anyone interested in taking up their Right to Buy can visit our Right to Buy website for help and advice on the discounts they could be eligible for, and the next steps they need to take. Information is also available on our Right to Buy Facebook page.
Changes to the eligibility criteria under the reinvigorated Right to Buy were included in the Deregulation Bill announced in the Queen's Speech.
Published 16 May 2013