Press release
Apprenticeship trailblazers continue to gain momentum
Matthew Hancock announces a new range of apprenticeships that will be developed by employers under the Trailblazer scheme.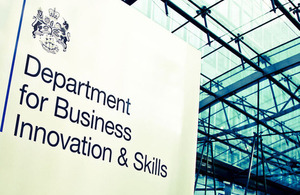 Skills and Enterprise Minister Matthew Hancock today (27 June 2014) announced a new range of apprenticeships that will be developed by employers under the Trailblazer scheme. He also called for expressions of interest from groups of employers to become part of the third phase of Trailblazers.
The Apprenticeship Trailblazers, launched in October 2013, have gone from strength to strength. The first phase of Trailblazer sectors includes energy & utilities, digital industries, financial services, life sciences and industrial sciences. Businesses from each sector worked together and produced new concise employer-led standards for key apprenticeship roles in their industry. These were launched in March 2014 and the first apprenticeships under the new standards will be delivered in 2014/15.
Building on their success, the businesses involved will now work on standards for more occupations that they see as crucial to developing their workforce and that will provide new opportunities for young people. The new range of occupations includes:
workplace pensions
aerospace machinist
IT practitioner
laboratory and healthcare science
investment operations
Skills and Enterprise Minister Matthew Hancock said:
The apprenticeship Trailblazers have already made great strides in developing a simpler and more rigorous system which works for employers and apprentices. Their commitment to develop more apprenticeship standards demonstrates the support our reforms have from employers.

Equipping all young people with the skills they need to begin prosperous and productive careers is a vital part of our long-term economic plan. Apprenticeships give young people the chance to fulfill their potential while helping to drive business growth.

We want to give more employers in more sectors the chance to lead the development of apprenticeship standards for their industries. That is why we will launch a third phase of Trailblazers later this year and I would encourage groups of employers to step forward and take this opportunity.
Jez Brooks, the Professional Development Manager at IBM and chair of the Digital Industries Trailblazer Group said:
IBM recognises the complexity and diversity of roles which apprentices could undertake in the digital industry, and the importance of having robust, clear standards for how apprentices will develop their skills, competence and capability. This is why we have been involved with the Trailblazer process from the outset.

We are delighted to continue supporting the implementation of our first two apprenticeship standards and the development of new ones, which will meet apprentice and employer needs from SMEs to large enterprises.
Lee Travis of Simply Biz Group, who are part of the Financial Services Trailblazer said:
The Trailblazer development process has proven to be an excellent method for creating a new style of apprenticeship, based on sector needs and employer requirements. I am delighted to be chairing the employer group developing the new Paraplanner apprenticeship.

The Paraplanner plays a key role in financial planning, with increasing demand from businesses right across the sector. This demand, plus the on-going need to attract 'new blood' into our profession makes this an ideal path for entry and/or career development, and is also an ideal progression route for those successfully completing the first Financial Services Trailblazer apprenticeship - Financial Administrator.

I am sure both the Financial Services Administrator and the Paraplanner apprenticeships will deservedly prove popular in the advice sector.
To further build momentum for the reforms and meet the strong demand from employers, a third phase of Trailblazers will be launched. We are inviting expressions of interest from groups of employers until 1 August 2014 and have today published more information about how to get involved and a clear set of criteria for phase three. An announcement will be made on the final sectors and employers in September 2014 when work begins to design the new standards.
Notes to editors
A list of the new occupations that employers will develop apprenticeship standards for can be accessed at 'Apprenticeship Standards In Development'.
The criteria for employer groups wishing to get involved in Phase 3 are available here 'Future of apprenticeships in England: guidance for trailblazers'.
Employers interested in becoming part of the third phase of Trailblazers should contact apprenticeship.trailblazers@bis.gsi.gov.uk.
Published 27 June 2014