Appointments to the Seafish board
The four UK Fisheries Ministers have appointed a new Board to the Sea Fish Industry Authority (Seafish).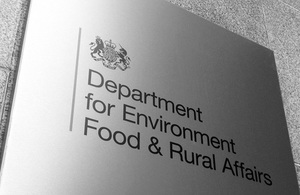 This follows discussions with the industry on Seafish's future, which were held last autumn.
A new deputy chair, Jane Ryder and seven non-executive members have been appointed to the Seafish Board from 1 April 2012.  The non-executive board members are: Clare Dodgson, Peter Hajipieris, Philip Huggon, Michel Kaiser, Michael Park, Stephen Parry and James Wilson.
The deputy chair appointment is based on a time commitment of two and a half days per month and receives a remuneration rate of £9,750 per annum.  The board member appointment is based on a time commitment of one and a half days per month and receives a remuneration rate of £5,670 per annum. 
All appointments run from 1 April 2012 for three years until 31 March 2015 and have the option of an extension of up to three years.
The appointment of the interim Chair, John Whitehead has with the agreement of the Commissioner for Public Appointments, been extended until 31 December 2012.
Biographies
Jane Ryder - Deputy Chair
Jane Ryder was the first Chief Executive of the Office of the Scottish Charity Regulator (OSCR) establishing the new regulatory regime for charities in Scotland.  She began her career in law and was a partner with specialist maritime solicitors Boyd Jameson WS, also serving as an elected Council member of the Law Society of Scotland.  She was then the Chief Executive of the Scottish Museums Council before her appointment to OSCR.  She is currently a Public Interest member of the Institute of Chartered Accountants of Scotland and the Chair of Arts and Business Scotland.  She is Board member of the Marine Management Organisation (MMO) a ministerial appointment with remuneration of £11,804 per annum.
Clare Dodgson
Clare was formerly Chief Operating Officer of Job Centre Plus, Chief Executive of the Legal Services Commission and a Chief Executive in the NHS.  She has many years experience as a non-executive director and is now on the Regulatory and Disciplinary Board of the Institute of Chartered Accountants for Scotland.  Clare is also an external complaints reviewer for the Parliamentary and Health Services Ombudsman, a public appointments ambassador for the Government Equalities Office, a member of the Regulation and Compliance Board  and also works as an independent executive coach and mentor. 
Peter Hajipieris
Peter is Chief Technical, Sustainability and External Affairs Officer for the Iglo Foods Group Ltd. (Birds Eye in the UK).  He has more than 28 years experience in the seafood industry and is a champion of sustainable fisheries development.  He has held various quality and commercial roles at Seafish before becoming the Business Development Manager for Fish at Sainsbury's where he subsequently held senior fresh food counter retail roles.  More recently he was UK Policy Manager for Seafood at Tesco where he initiated the first global responsible sourcing standard for fishmeal and fish oil used in aquaculture with the International Fishmeal and Fish Oil Organisation.  He is a member of the Aquaculture Stewardship Council Supervisory Board founded by WWF & IDH (Dutch Sustainability Initiative).
Philip Huggon
Philip is a non-executive Director of Alder Hey Children's Hospital, Chair of RCU Ltd. (a consultancy to further education and Government bodies), and a non-executive Director of the Business Community Institute.  He is also a trustee on the board of Sports Leaders UK and provides strategic marketing consultancy to different private and public organisations, mostly in the health and education sectors.  Prior to setting up his own company, he spent 20 years with BP, Mars and Shell in various marketing, strategy and business development roles across Europe, including leading Shell's largest ever transformational change programme across the UK businesses.
Michel Kaiser
Michel is Professor of Marine Conservation Ecology at the School of Ocean Sciences, Bangor University.  He also chairs Defra's Marine Fisheries Stakeholder Forum and is a panel member of the European Science Foundation Marine Board Working Group 'Valuing Marine Ecosystems'.  After gaining his PhD he joined CEFAS where he led a research team studying the effects of human activities (fishing and aquaculture) on the marine environment.  He joined Bangor University as a lecturer where he expanded these interests to encompass the social and economic consequences of different approaches of managing fishing activities.  He has been awarded the Fisheries Society of the British Isles medal and a personal Chair in Marine Conservation Ecology.
Michael Park
Michael is Chief Executive of the Scottish White Fish Producers Association (SWFPA), Director and Vice Chairman of the North Sea Regional Advisory Council, a board member of the Scottish Fishermen's Federation, Chairman of Box Pool Solutions Ltd., Chairman of the Scottish Fisheries Sustainable Accreditation Group, and Chairman of the UK Fishing Industry Healthcare Scheme Ltd. and Chairman of SWFPA Crew Services Ltd.  Michael was at sea from a young age and spent 26 years as a skipper and owner.  He recently received the WWF Award for Conservation Merit in recognition of his leadership and efforts in improving conservation measures in the Scottish whitefish fisheries and his work in encouraging sustainable fishing practices in Scotland and beyond.
Stephen Parry
Stephen is Technical Advisor to Findus Group, having previously been their Technical Director.  He Chairs the Food Sector group of the Biosciences Knowledge Transfer Network and the Food and Drink Federation Seafood Group.  Stephen is Vice President of the European Board of the fish processors association (AIPCE) and a member of the Technical Advisory Board of the Marine Stewardship Council.  Having worked for over 37 years in the food industry in senior operations and technical roles for Unilever, United Biscuits and Young's Seafood, he has played an instrumental role in helping to develop the wider corporate social responsibility agenda for the Findus Group.
James Wilson
James is Director of The Menai Strait Fishery Order Management Association, Director of Bangor Mussel Producers Ltd. and Chairman of the Shellfish Association of Great Britain Mollusc Committee.  He has been involved in the extensive culture of mussels in Wales and Northern Ireland for the past decade.  A marine scientist by education, he has worked in the past for the National Federation of Fishermen's Organisation; the Irish state agency responsible fishing and aquaculture, Bord Iascaigh Mhara (BIM); the Centre for the Economics and Management of Aquatic Resources (CEMARE) in Europe; and alongside DFO/FOC and First Nations on the Canadian Pacific Coast.  He was a Welsh Government appointee on the North Western and North Wales Sea Fisheries Committee.
Notes to editors
Seafish was established by the Fisheries Act 1981 for the purpose of promoting the efficiency of the sea fish industry and so as to serve the interests of that industry as a whole.  It is a Non-Departmental Public Body sponsored jointly by the four UK Fisheries Administrations.  For more information go to: www.seafish.org
These appointments to the Seafish Board are covered by the Commissioner for Public Appointments and are conducted within the principles of the Commissioner's Code of Practice.
All appointments are made on merit and political activity plays no part in the selection process.  However, in accordance with the original Nolan recommendations, there is a requirement for appointees' political activity (if any declared) to be made public.  All appointees completed political activity questionnaires as part of the recruitment process and none declared any political activity.
Published 29 March 2012