World news story
Trade announcements on anniversary of UK-Mongolia diplomatic relations
New UK Trade Envoy and increased support from UK Export Finance reinforce the trade and investment partnership between the UK and Mongolia.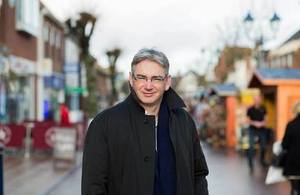 The UK and Mongolia celebrated the 55th anniversary of establishment of diplomatic relations on 23 January 2018.
Her Majesty's Ambassador Catherine Arnold launched the year-long celebration with an official reception. She announced the appointment of UK Prime Minister's Trade Envoy to Mongolia and UK Export Finance's (UKEF) decision to increase support.
Julian Knight MP has been appointed by Prime Minister Theresa May to act on behalf of the British government to support and increase trade and economic co-operation between the United Kingdom and Mongolia.
UKEF, the world's oldest export credit agency, also announced an increase in support available for UK trade with Mongolia to £200 million.
UK Export Finance can now also support transactions in Mongolian Tugrug, as part of its world-leading local currency financing offer. This will allow Mongolian buyers of UK goods and services to access finance in their own currency - or to 'buy British, pay local'.
The British Ambassador to Mongolia, Catherine Arnold, said:
These are 2 significant announcements to support and grow the trade and investment partnership between the UK and Mongolia.

On 23 January 1963, the UK became the first Western country to establish diplomatic relations with Mongolia. Our first diplomat arrived a year later and we have had diplomatic representation here in Ulaanbaatar ever since. Our partnership has been sustained and unwavering over the last 55 years.

I am delighted to launch our 55th anniversary year with these 2 significant trade announcements. The UK remains committed to working with Mongolia both here and globally, to strengthen our economies, increase sustainability, and nurture democracy and human rights.
Published 1 March 2018