News story
Appointment of new UK Special Representative for Deportations with Assurances
The Foreign Secretary and Home Secretary have appointed Michael Ryder CMG as the UK's new Special Representative for Deportations with Assurances.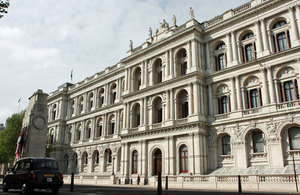 Mr Ryder, formerly a member of HM Diplomatic Service, has almost 30 years' experience dealing with defence, international crime and strategic threats, often in the context of countries with weak human rights records. He was formerly HMG's Special Representative to Sudan and South Sudan, and the UK's Deputy Ambassador to Afghanistan.
As Special Representative, Mr Ryder will negotiate agreements and assurances with countries to allow the Government to deport foreign nationals involved in terrorism in line with its current obligations under the European Convention on Human Rights. He will also act as the Government's witness in court proceedings that examine these cases. It was the Deportations with Assurances policy that led to the deportation of Abu Qatada in July 2013.
The appointment was approved by the Foreign Secretary and Home Secretary following a fair and open competition overseen by a Public Appointments Assessor. The post became vacant at the end of Dame Anne Pringle's tenure as Special Representative.
Further information
Published 15 December 2015