World news story
Applications for 2014/2015 Chevening Scholarships Open
Chevening Scholarships are the UK government's global scholarship programme funded by the Foreign and Commonwealth Office.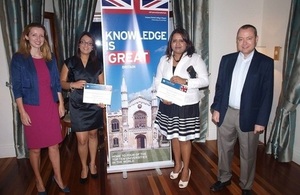 Applications for 2014-2015 Chevening Scholarships in Madagascar, Mauritius and the Seychelles are now open and will close on 15 November.
The Scholarships not only offer financial support to study for a Master's degree at the UK's leading universities, but the opportunity to become part of an influential and highly regarded global network.
We aim to attract talented professionals who are potential future leaders, decision-makers and opinion formers. We accept applications from a wide range of subject areas, however, we particularly welcome applications in the following fields:
Justice: (Law enforcement and the Judiciary) Human Rights: (Freedom of expression / press, gender equality, disability rights) Governance: (public policy, anti corruption, social work, welfare, democracy) Trade and economy: (business leadership, extractive industries) Education: (tertiary education development, education standards) Environment: (sustainable development, disaster risk management, climate change, conservation)
For more information, click here
Published 22 September 2013