News story
Apache crews receive Afghanistan and Libya campaign medals
Soldiers who fly and maintain the Apache attack helicopter have celebrated their achievements on operations in both Libya and Afghanistan.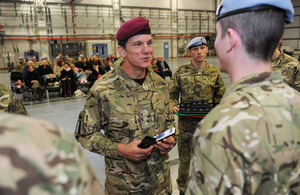 Soldiers from the Wattisham-based 4 Regiment Army Air Corps (AAC) were on parade yesterday to be presented with campaign medals recognising their role in the NATO-led Libya operation in Summer 2011 and their service in Afghanistan earlier this year.
The 2 deployments challenged the unit's air and ground crews to carry out the Apache's first operational missions in the salty sea air and confined spaces of a ship sailing off Libya, as well as supporting troops in the hot, high and dusty conditions of Afghanistan.
Colonel Jacko Jackson, Deputy Commander of 16 Air Assault Brigade, presented 66 soldiers who served in the Libya campaign with NATO's Non-Article 5 Operation UNIFIED PROTECTOR medals, which the Queen has granted special permission for military personnel to wear, and a further 44 Operational Service Medals for Afghanistan.
Two operational honours awarded for actions during the Libya campaign - a Queen's Commendation for Valuable Service for Major Mike Neville and a Mention in Despatches for Warrant Officer Class 1 Jonathan Lane - were also presented.
Apaches from the regiment's 656 Squadron flew sorties over Libya from HMS Ocean as part of NATO operations to protect civilians in support of United Nations Security Council Resolution 1973. On 22 missions between June and October 2011 the Apaches hit more than 100 targets, firing 99 Hellfire missiles and 4,800 30mm cannon rounds. Operation ELLAMY was the name of the British military's contribution to the Libya campaign.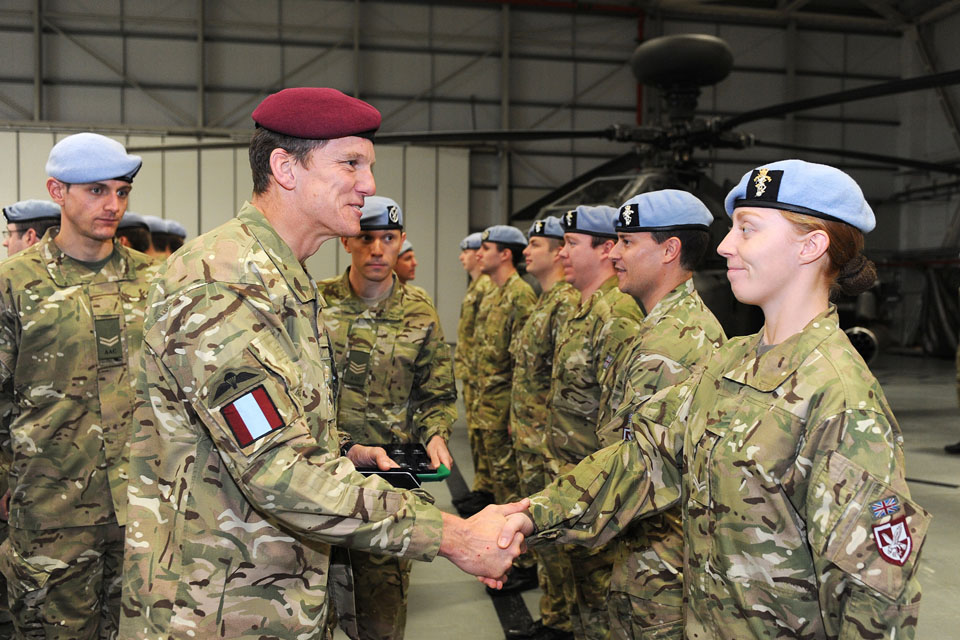 Soldiers from 4 Regiment AAC deployed to Afghanistan from January to September 2012, with the regiment's 654 and 664 Squadrons each completing a four-month tour. As well as pinpoint strikes in support of ground troops, the Apache's role is to escort other helicopters and land convoys and provide a near-all-weather surveillance capability.
Lieutenant Colonel Jason Etherington, Commanding Officer of 4 Regiment AAC, said:
This is a very proud day as we join with our families to celebrate our achievements over an 18-month period with 2 very different but equally challenging operations.
The fast-moving events in Libya saw a five-week exercise for 656 Squadron become a five-month operation, as they went from learning how to operate Apaches on board naval ships to flying operational missions for the first time.
Taking off from a moving ship to fly over sea at night without lights into a high threat environment challenged the pilots, while the ground crew had to adapt to safely maintaining aircraft in the confined spaces of a ship. For 654 and 664 Squadrons it was a busy and demanding tour of Afghanistan that presented a very different environment, role and threat.
Published 12 December 2012