Press release
Antivirals in the fight against flu this winter
Doctors treating severe cases of flu are urged not to be deterred from prescribing antivirals due to confusion over their effectiveness.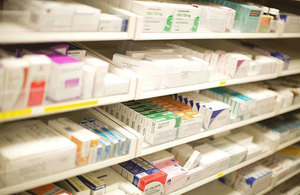 Today (5 November 2014), Public Health England (PHE) publishes updated guidance for healthcare professionals on the use of antivirals for the treatment and prevention of flu, confirming the drugs can reduce the risk of death in patients hospitalised with the virus.
For most healthy people, flu is an unpleasant but usually self-limiting disease with recovery taking up to a week. However older people, the very young, pregnant women and those with a health condition - particularly chronic respiratory conditions such as asthma, diabetes or heart disease or those with a weakened immune system - are at particular risk from the more serious effects of flu.
The new guidance published today follows concern from reports earlier this year that suggested antivirals are not effective for influenza, causing confusion that could impact the prescribing of these important drugs when there is no evidence to support a change to their recommended use.
Professor Paul Cosford, Director for Health Protection and Medical Director at PHE, said:
The severe impact that flu can have on the health of people at risk in our communities and on our health services is unquestionable, and whilst we know that antivirals are not a 'magic bullet' to prevent or treat flu in otherwise healthy individuals, the evidence is clear - that they can reduce the risk of death in patients hospitalised with flu or in those at greater risk from the complications of the virus.

A recent study of patients hospitalised with flu showed that among adults, treatment with antivirals was associated with a 25% reduction in the likelihood of death compared with no antiviral treatment. Early treatment within 48 hours of onset of symptoms halved the risk of death compared with no antiviral treatment. This supports the view that the benefit of this treatment is greatest when started within 2 days of onset of illness.

PHE continues to support the early use of antivirals for patients with proven or suspected seasonal influenza who are in high risk groups or who are considerably unwell, even if they are not in a high risk group.
Each winter hundreds of thousands of people see their GP and tens of thousands are hospitalised because of flu. Last winter, PHE received reports of 904 people admitted to intensive care or high dependency units with laboratory confirmed flu and, of them, 11% (98 people) died. This does not account for the many deaths where flu is not recognised or reported - estimates of the annual number of deaths attributable to flu range from 4 to 14,000 per year, with an average of around 8,000 per year.
PHE's national seasonal flu campaign launched on 6 October 2014, encouraging uptake of the flu vaccine among most at-risk groups. The campaign targets people of all ages with a health condition, as well as pregnant women and parents of children aged 2 to 4.
Professor Cosford added:
The best way people aged 65 and over, pregnant women and those with a long term health condition can protect themselves is to take up the offer of a free vaccination from their GP as soon as possible. Even people whose health conditions are well managed and who lead otherwise healthy lives should still have the flu vaccine – it's free because you need it.

Since 2013, 2 and 3 year olds have been eligible for flu vaccination with a newly available nasal spray, and this year the spray is also being offered to 4 year olds as a quick, effective and painless way to protect children from flu.
Ends
Notes to editors
Infections press office
PHE press office, infections
61 Colindale Avenue
London
NW9 5EQ
Published 5 November 2014