Press release
Annual Human Rights report 2014
The 2014 Foreign Office annual report on Human Rights and Democracy sets out steps taken to promote and protect human rights.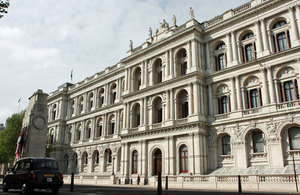 The report summarises the global human rights situation in 2014 and provides examples of what the government is doing to promote human rights and democratic values overseas.
It reviews the situation in specific countries and against the thematic priorities around which the FCO's work is organised. The report also sets out the benefits for UK citizens of all our overseas work on human rights, for their prosperity and security, for British nationals overseas, and for the Overseas Territories.
The Foreign Secretary recorded a video message for the launch event.
The Foreign Secretary recorded a video message for the launch event
Speaking at the launch, Minister for Human Rights, Baroness Anelay said:
My experiences as Minister for Human Rights have shown me how interconnected human rights are with so much of the other work that we do in support of the British national interest, from security and extremism, to modern slavery.

I have had the privilege of seeing first-hand the passion and commitment of all those working to improve the human rights of others: from civil society groups, to parliamentary colleagues and international counterparts. Most of all, however, I have seen how human rights are intrinsically connected with British values - open market economies, liberal democracies, free media, individual liberties and rule of law.

The annual report shows how, although there is still a long way to go, the UK puts a great deal of effort into protecting and promoting human rights around the world, and remains committed to standing up for those who do not enjoy the freedoms we so easily take for granted.
The full report can be read here
Further information
Follow the Foreign Secretary on twitter @PHammondMP
Follow Foreign Office Minister Baroness Anelay on twitter @JoyceAnelay
Follow the Foreign Office on twitter @foreignoffice
Follow the Foreign Office on facebook and Google+
Published 12 March 2015