News story
Animal medicine seizure notice: Gansera Leveque
Details of seizure notice served to Gansera Leveque, Newmarket Published in February 2020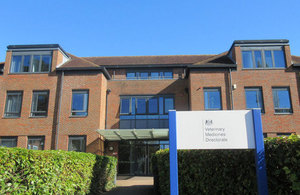 The following product was seized by a VMD inspector during a routine inspection of a veterinary practice:
4 x 100ml bottles of P-Block
This product is a non-UK veterinary product. This can only be administered under Schedule 4 (Administration of a veterinary medicinal product outside the terms of a marketing authorisation) of the Veterinary Medicines Regulations 2013 (VMR) by vets who hold a valid Special Import Certificate (SIC). No such certificates were held by this practice.
The administration of these products is an offence under Regulation 8 (Administration of the product). The possession of these products is an offence under regulation 26 (Possession of an unauthorised veterinary medicinal product) of the VMR.
Published 5 February 2020