Press release
Angler caught without a licence reels in £1850 penalty
47 year old Stephen Newton from Hull was challenged by a fisheries enforcement officer while fishing at Cromwell Carp Lake in Newark.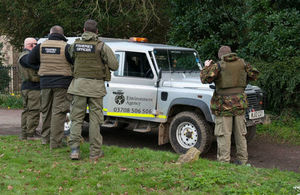 An illegal angler was fined £220 with £1638.41 costs on 11 January 2017 after being found guilty of fishing without a licence at Nottingham Magistrates' court.
47 year old Stephen Newton from Hull was challenged by a fisheries enforcement officer while he was fishing at Cromwell Carp Lake in Newark on 24 April 2016. He failed to produce a valid licence to the officer.
Mr Newton pled "not guilty" to the charge of fishing without a licence, but he subsequently failed to appear in Court for the legal proceedings. He has now been ordered to pay a total of £1858.41.
Peter Haslock, Enforcement Team Leader at the Environment Agency said:
Our officers work hard on a day-to-day basis to check that anglers are licenced. We invest the money raised from rod licences in the protection of our rivers as well as improvements to fishing facilities, which is vital for the future of the sport.
The vast majority of anglers fish with the appropriate licence. We do not hesitate to take legal action against the minority of anglers who fish illegally. This case demonstrates once again that fishing without a licence is not a profitable offence: Mr Newton could have fished legally for 68 years for the price of the fine he has been ordered to pay.
Anglers fishing without a licence should expect to be prosecuted. Anyone caught fishing illegally can face a fine up to £2,500, and up to £50,000 for any byelaw offences. In 2015 the Environment Agency checked over 62,000 rod licences. 1,900 anglers were prosecuted resulting in fines and costs of over £500,000.
An annual fishing licence is available for just £27. Information about rod licences and byelaws is freely available on the Environment Agency website. The Environment Agency encourages anyone who witnesses or has information regarding illegal fishing to report it to its Incident Hotline on 0800 80 70 60.
ENDS
Notes for editors
All rod licence income is used to fund work to protect and improve fish stocks and fisheries. Our work includes responding to fish kills and, where we can, rescuing fish; improving habitats for fish and facilities for anglers, protecting stocks from illegal fishing, plus fish restocking, invasive species eradication, and working with partners to encourage people to take-up fishing for the first time.

Mr Newton was fined £220 for fishing without a licence. In addition he had to pay £1608.41 in costs and a £30.00 victim surcharge.

The figure of 68 years of licence buying to cover the cost of the fine is based on this year's licence cost of £27.
Published 16 January 2017