Press release
Angela Rippon to kick start Prime Minister's dementia challenge champion groups
People living with dementia, business leaders and charities have come together today to drive forward work on the Prime Minister's dementia challenge.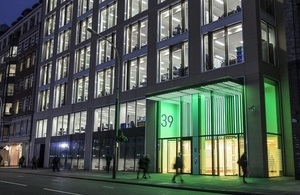 Alzheimer's Society Ambassador Angela Rippon and Alzheimer's Society Chief Executive, Jeremy Hughes, will lead discussions on how to create communities that support people living with the condition.
The Dementia Friendly Communities Champion Group includes representatives from major retailers and utility companies, including Tesco, Lloyds Banking Group, BT and E-On, along with local government and charities as well as people who are caring for their loved ones affected by dementia.
The group will look at how to make 20 cities, towns and villages dementia friendly by 2015. Small changes can make a huge difference to people's day to day lives, such as having greeters in supermarkets to help guide people around the store and setting up dedicated dementia cafes.
Innovation will be a key area of interest as it opens up huge possibilities for supporting people with dementia. This has been shown today by the unveiling of  five ground-breaking designs, including a dementia support dog, a room fragrance system to stimulate people's appetites and a wristband personal alarm, all created to help people live well with dementia. The designs have been developed through a national competition, run in partnership with the Department of Health and were unveiled at the Design Council ahead of today's meeting.
Care Services Minister Paul Burstow said:
"Fear of dementia can leave people feeling powerless and trapped, leaving them isolated and unsupported. That is why we have worked with the Design Council to drive innovation in dementia care. The five winning ideas have the potential to make a big difference for people with dementia and their families.
"The Design Council work is part of our wider drive to make our country dementia friendly. Today we go further with our partnership with the Alzheimer's Society to challenge cities, towns and villages up and down the land to lead a revolution in how people think about dementia.
"Working with businesses, councils, the local NHS and community groups our immediate goal is a network of 20 dementia friendly cities, towns and villages to lead the way."
A month ago today the Prime Minister announced plans to make the UK a world leader on dementia. The ambitious programme aims to deliver major improvements in dementia care, dementia awareness and dementia research by 2015, with three 'Champion Groups' established to lead work on each strand. The Health and Care and Research Champion Groups will hold their first meetings shortly.
The Alzheimer's Society, together with the Government, is calling for a radical shift in the way society treats people with dementia to ensure they receive the support and respect they deserve.
Angela Rippon, Alzheimer's Society Ambassador, said:
"My experiences with my mother showed me that small changes can make a huge difference to people's lives. Society's beginning to recognise the scale of dementia but we now need to keep the momentum going. The scale of our ambition needs to meet the scale of the challenge."
A recent report from Alzheimer's Society showed that nearly two-thirds of people with dementia did not feel part of their community and nearly half had lost friends. Seventy-one per cent of people with dementia said they would like their community to understand how to help them live well.*
Jeremy Hughes, Chief Executive of Alzheimer's Society, said:
"So many companies signing up to be dementia friendly shows a real commitment to improving people's lives. From helping people with their shopping to making it easier to do their banking - these organisations are incredibly well placed to push forward real change.
"We now need to see more organisations getting involved. Together from bus drivers to businesses, we all have a role to play in making communities more dementia friendly."
In England 670,000 people have dementia and the number of people developing the disease is increasing. One in three people will develop dementia and it costs society an estimated £19 billion a year.
The Dementia Friendly Communities Champion Group will investigate how best to develop a cross-sector approach to raising awareness and understanding of dementia, and as part of this, will input into the development of a nationwide campaign, led by the Department of Health and Alzheimer's Society.
The three champion groups will report on progress to the Prime Minister in September 2012 and again in March 2013.
-Ends-
Notes to editors
For media enquiries please contact the Department of Health news desk on 020 7210 5221.
The full membership of the Dementia Friendly Communities Champion Group is:
Jeremy Hughes, Chief Executive, Alzheimer's Society, Co-Chair
Angela Rippon OBE, Alzheimer's Society Ambassador, Co-Chair
Trevor Jarvis, Living with dementia
Ann Jarvis, Caring for her husband Trevor
Ann Johnson, Living with dementia
Angela Clayton-Turner, Caring for her husband Ted
Chief Constable Simon Cole, Lead, Mental Health and Disability portfolio, Association of Chief Police Officers
Trevor Matthews, CEO, Aviva PLC
Paul Talboys, CEO, Bingo Association
Paul Litchfield, Chief Medical Officer, BT
David Kester, CEO, Design Council
Fiona Stark, Director of Corporate Affairs, E-on
Giles Fearnley, Managing Director First UK Bus, First Group PLC
Philippa Hare, Programme Manager, Joseph Rowntree Foundation
Steve Griffiths, Director of Service Delivery, Kent Fire and Rescue Service
Graeme Whippy, Senior Manager - Group Disability Programme, Lloyds Banking Group
Carolyn Downs, Chief Executive, Local Government Association
LydiaSaward, Customer Disability and Diversity Manager, Nationwide
Ian Sherriff,PlymouthDementia ActionAlliance
Ros Altmann, Director General, Saga Group
Ruth Girardet, Corporate Responsibility Director, Tesco
Ruth Bond, Chair, National Federation of Women's Institutes
Peter Dart, Director, WPP
A dementia-friendly community is where cities, towns, villages and local businesses and organisations support people to live well with dementia, helping them remain independent for longer. The Alzheimer's Society will lead on development, in consultation with the communities themselves and people with dementia and their carers.
Groups inYork, Plymouth, Bradford, Sheffield, Leeds and Liverpool are all committed to make their cities dementia-friendly. This initiative is also supported by the Local Government Association.
This Autumn the Department of Health will fund a high-profile public awareness campaign, to raise awareness of dementia and build on the lessons of previous campaigns. It will help to ensure people have access to advice on recognising early signs of dementia, where to get help and support, and how to make life easier for people with dementia and their families.
The Dementia Friendly Communities Champion Group is one of three set up as part of the Prime Minister's challenge. The other two groups cover Health and Care, and Research. A copy of the Prime Minister's Challenge on Dementia is available to download.

*_ Figures from the Alzheimer's Society report - _Dementia 2012: A national challenge
6.The Design Council, in partnership with the Department of Health, ran a national competition to find teams of designers and experts who could develop new ideas to help improve the lives of those affected by dementia. Guided by in-depth research and working with those affected by dementia, the five teams developed the innovative concepts for products and services. The resulting prototypes will be further tested and developed with commercial partners with the aim of making some or all of them available on a large scale as soon as possible.    
The five designs unveiled today are:
buddiband - a discrete wristband which uses cutting edge technology to keep carers informed of the welfare of the wearer, and respond if needed **
Dementia Dog - a new approach that trains specially-selected assistance dogs to help and protect the wellbeing of people with dementia. **
Grouple - an online network which helps families plan and share care, engaging a wider support circle.**
ode **- a plug in device which emits aromas and keeps appetite alive, helping to support healthy nutrition, which can be an issue for those with dementia**
Trading Times **- a website to help carers find flexible employment**
Published 26 April 2012