Andrew Stunell welcomes largest year-on-year drop in number of empty homes
Families across the country in need of a stable home could benefit from thousands of formerly long term empty homes being made available, Communities…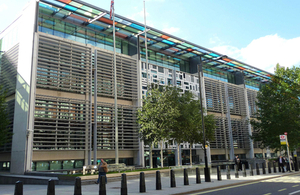 Families across the country in need of a stable home could benefit from thousands of formerly long term empty homes being made available, Communities Minister Andrew Stunell has said.
Latest figures show that over the past year the numbers of long-term empty homes has fallen by over 21,000 - the biggest year-on-year drop since 2004.
Empty properties can blight local communities, often attracting problems including squatting, anti-social behaviour and fly-tipping.
On a visit to Redcar, Mr Stunell made clear that it was a top Government priority to bring empty properties across the country back into use, and ensure these are available for people in need of a new home.
Councils, housing associations and voluntary groups can apply for a share of £100 million Government funding to help bring more empty homes back into use. The recent Housing Strategy also included an additional £50 million to help areas with the worst concentrations of empty properties, whilst the Coalition is also consulting on giving councils the power to charge an Empty Homes Premium - worth up to 50 per cent of council tax - on properties that have been left vacant for more than two years.
Communities are also for the first time seeing the benefit of housing growth in their area. Last year, councils delivered 159,000 properties - both newly built homes and empty homes brought back into use. 353 councils are next year expected to benefit from a share of £210 million.
These latest figures show there are 279,000 long-term empty properties across England - 21,000 less than the previous year and less than the 319,000 long term empty homes reported when the figures were first collected in this way in 2004.
Communities Minister Andrew Stunell said:
The number of empty homes in this country is a national scandal. There is a clear and pressing need for new homes in this country, yet for every two families that need a home there is one standing empty.

That's why I've made tackling the blight of empty homes a top priority for the Coalition. Communities that bring these properties back into use can benefit from extra cash through the New Homes Bonus, and we've made £150 million available to help councils and charities take radical action in this area.

These figures show that this concerted effort - compared to the inertia of the past - is already bearing fruit. I'm encouraged that over the past year we've managed to reduce the numbers of empty homes by over 21,000. There's more work to do but with these measures firmly in place, I hope to see more progress next year.
Notes to editors
Twitter
Keep up to date with the Department by following us on Twitter (external link).
Media enquiries
Visit our newsroom contacts page for media enquiry contact details.
Published 8 December 2011