Press release
Ambitious small businesses given tailored expertise to grow
The successful providers of the £2.6 million Mentor Challenge Fund were announced today (30 January 2014).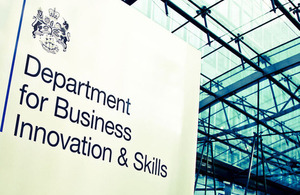 Thousands of small businesses are set to receive expert help to grow their business as the successful providers of the £2.6 million Mentor Challenge Fund were announced today (30 January 3014).
Thirteen projects will share £1.27 million of government funding which has been more than matched by industry for a total investment of £2.69 million. It is expected this will help to sustain and create over 200 jobs, increase skills levels in participating firms and generate increased sales in excess of £7 million.
The projects cover 10 different sectors including creative industries, life sciences and manufacturing, and will provide mentors to ambitious company bosses in these industries.
Launching the Mentor Challenge Fund in Gloucester, the Skills and Enterprise Minister Matthew Hancock said:
Growing a business is hard work and we want to do everything we can to support ambitious entrepreneurs. The best source of advice for businesses comes from others in their field who have been through it and can offer practical, trusted advice.

As well as ensuring these businesses receive sector specific mentoring, we hope this raises the profile of how valuable this kind of help can be.
Research shows that small and medium-sized businesses looking to grow, particularly in the manufacturing sector, want mentoring from a peer with direct experience of their particular sector. The Mentor Challenge Fund aims to meet this need.
On average, the projects will offer businesses 20 to 24 hours of annual direct advice, although the individual schemes vary to meet demand.
The successful projects are:
Somerset Chamber of Commerce - Hinkley Supplier Enabling Programme (nuclear sector). Awarded £134,000, total project funding £310,500
Creative England - Creative Business Mentors. Awarded £131,780, total project funding £308,888
Small Firms Enterprise Development Initiative (SFEDI) - Get Mentoring (For Agriculture and Farming). Awarded £150,000, total project funding £306,422
Rail Alliance - Rail Sector small and medium-sized business supply Chain Mentoring. Awarded £150,000, total project funding £305,000
Economic Solutions and Stevenage Bioscience catalyst (biomedical and life sciences sectors) jointly awarded £150,000, total project funding £300,000
WSX Enterprise - Air, land and sea mentoring challenge. Awarded £146,250, total project funding £292,500
British Education Suppliers Association (BESA) - ED technology small and medium-sized business mentoring Scheme (education sector). Awarded £99,000, total project funding £212,050
Allen Env Solutions Ltd - Low Carbon Sector Mentoring. Awarded £100,000, total project funding £212,000
Economic Solutions Ltd - Mentor Tex (textiles sector). Awarded £77,500, total project funding £155,000
Northamptonshire Enterprise Partnership - Northamptonshire High Performance Technology Mentoring Programme (automotive, aerospace, low carbon, defence sectors). Awarded £44,000, total project funding £88,000
Tree Shepherd - Tree Shepherd Food, Hospitality and Crafts Sector-Specific Mentor Matching Programme for small and medium-sized businesses in Lambeth. Awarded £24,000, total project funding £74,434
National Composites Centre - Composites small and medium-sized business Mentoring Programme. Awarded £35,500, total project funding £71,000
Staffordshire Chamber of Commerce - Staffordshire Ceramics and Manufacturing Academy Mentoring. Awarded £27,826, total project funding £55,654
Notes to editors
1.Matthew Hancock launched the Mentor Challenge Fund yesterday (29 January 2014) during a visit to Gloucester Engineering Training Group.
2.The minister met with 2 of the projects during a roundtable held at the Gloucestershire Engineering Training Group. One to help suppliers for the construction of the nuclear power plant at Hinkley (Somerset Chamber of Commerce) and the other for firms working with composite materials (National Composites Centre).
3.The Gloucestershire Engineering Training Group delivers cost effective training programmes for the industry which meet the needs and demands of the employer rather than meeting the rules for funding.
4.Speaking at a Federation of Small Businesses (FSB) event on 27 January 2014, the Prime Minister set out how the success of small businesses is central to the government's long term economic plan. He pledged his commitment to continue to make it easier for small businesses to thrive.
5.The country's 4.9 million small businesses could save up to £10,000 each a year by taking advantage of government measures available to them, including;
business rates - £1.1 billion package of business rates measures, with extra relief announced for small businesses through the extended doubling of the Small Business Rate Relief
Growth Vouchers - a £30 million programme which will see 20,000 small businesses receive up to £2,000 to help them access specialist support on hiring, financial management and marketing
Broadband vouchers - 10 out of 22 cities across the UK have already started to benefit from up to £100 million of broadband vouchers worth up to £3,000 each to help more small firms boost their business by accessing faster and better broadband connectivity
Employment Allowance - from April 2014 every business and charity will be entitled to a £2,000 Employment Allowance to reduce their employer National Insurance Contributions (NICs) bill each year. Over 90% of the benefit of this allowance will go to small businesses
fuel duty - government has cancelled the planned September 2014 increase in fuel duty. The average small business with a vehicle will save £1,300 on petrol by 2015
regulation - more than 3,000 regulations, including employment, health and safety law and environmental legislation have been identified for scrapping or improvement through the Red Tape Challenge since 2011. This is expected to deliver savings of over £800 million a year once the measures are fully implemented
6.These measures aimed at supporting small businesses follow Small Business: GREAT Ambition - the government's commitment to help make it easier for small businesses to grow. The statement was published last month and announced a substantive package of support for small business to remove some of the barriers they face, improve the business environment and make it easier for them to scale-up.
7.This sits alongside the government's Business is GREAT campaign, which points businesses to sources of advice and support that can help them grow.
8.The government's economic policy objective is to achieve 'strong, sustainable and balanced growth that is more evenly shared across the country and between industries'. It set 4 ambitions in the 'Plan for Growth', published at Budget 2011:
to create the most competitive tax system in the G20
to make the UK the best place in Europe to start, finance and grow a business
to encourage investment and exports as a route to a more balanced economy
to create a more educated workforce that is the most flexible in Europe
Work is underway across government to achieve these ambitions, including progress on more than 250 measures as part of the Growth Review. Developing an Industrial Strategy gives new impetus to this work by providing businesses, investors and the public with more clarity about the long-term direction in which the government wants the economy to travel.
Published 30 January 2014