Press release
Almost 500 men have potentially lifesaving surgery through screening
PHE publishes its first annual data for the NHS Abdominal Aortic Aneurysm Screening programme for screening centres across England.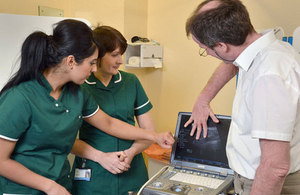 New figures from Public Health England's (PHE's) NHS Abdominal Aortic Aneurysm Screening programme show that 487 men received potentially lifesaving surgery during 2013 to 2014.
In England, around 1 in every 70 men aged 65 years has an abdominal aortic aneurysm (AAA). An AAA is a dangerous swelling (aneurysm) of the aorta, the main blood vessel that runs from the heart down through the abdomen to the rest of the body. If left untreated, the aneurysm can rupture, and 8 out of every 10 people with a ruptured AAA die before they reach hospital, or don't survive the emergency surgery.
This is the first time figures from the screening programme have been published since the completion of its national rollout across England in April 2013. Now, all men aged 65 are invited to be screened, and those over the age of 65 can self-refer through their GP.
Mr Lee McLeod from Middlesex said:
I was totally surprised when I was told I had a large aneurysm as I felt fine. I left hospital 6 days after surgery, promising myself a healthier, more active lifestyle. I now feel great and would encourage every man aged 65 to get screened. It only takes 10 minutes and it could be one of the best decisions you ever make.
Dr Anne Mackie, Director of Programmes for the UK National Screening Committee and NHS Screening programmes, said
It is fantastic that in the first full year of the screening programme more than 270,000 men were screened. More than 3,700 of them were found to have aneurysms and were offered follow up and treatment.
Michael Wyatt, Honorary Secretary for the Vascular Society, said:
We are delighted to see that so many men in England have benefited by having elective repairs through the abdominal aortic aneurysm screening programme. This programme is essential in the prevention of premature deaths in men aged 65 years and over and has the full support of the Vascular Society.
Ends
Notes to editors
The first set of annual data, for all 41 screening centres across England, since the completion of national implementation of the NHS Abdominal Aortic Aneurysm Screening programme is available from the AAA website.
All health screening carries risks as well as benefits, and it is important the individuals make a personal choice about whether screening is right for them. Men aged 65 and over can access an AAA screening patient decision aid to help them decide whether to take up the offer of abdominal aortic aneurysm screening on the NHS.
Public Health England exists to protect and improve the nation's health and wellbeing, and reduce health inequalities. It does this through world-class science, knowledge and intelligence, advocacy, partnerships and the delivery of specialist public health services. PHE is an operationally autonomous executive agency of the Department of Health. Website: www.gov.uk/phe. Twitter: @PHE_uk, Facebook: www.facebook.com/PublicHealthEngland
Published 26 November 2014