Alistair Burt meets Israeli foreign minister
UK Minister for the Middle East discusses Iran, regional issues with Avigdor Lieberman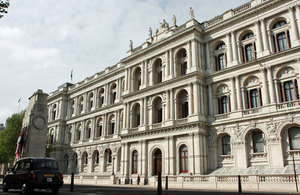 Minister for the Middle East, Alistair Burt, today met Israeli Foreign Minister Avigdor Lieberman as part of his visit to Israel, the Occupied Palestinian Territories and Jordan. The two had a detailed exchange on the current status of the stalled peace talks and efforts to restart the negotiations. Minister Burt emphasised the UK's concern about the need for both sides to take urgent steps to return to direct talks. He also updated Minister Lieberman on the progress of the amendment on universal jurisdiction.
Minister Burt briefed Minister Lieberman on his visit to Nazareth the previous day and the concerns raised by the Arab community leaders he met there, and they discussed the importance of the proper treatment of Israel's minorities. In addition, they had a detailed discussion on the wide-ranging areas of co-operation between the UK and Israel, including bilateral trade and investment.
Minister Burt also shared his views on regional issues including Lebanon and Tunisia and they also discussed the international community's deep concern about Tehran's nuclear programme and the package of sanctions aimed at pressuring Iran to abandon its goal of developing the capacity to produce a nuclear weapon.
Published 18 January 2011